Baste yourself. And, feel empowered.
Vegan Thai Red Curry Paste; a spread infused with fiery chillies, floral lemongrass, citrus galangal, kaffir lime leaves and lemony coriander seeds.
This paste will burst your belief that vegan food can't be simple to put together.
Make this:
When you fancy having your own Thai Red Curry Paste parked in the fridge and just add some coconut milk to make a wee curry
When you've got the lads over for games night and need to rustle up a quick dish to go with your bevvies
When you fancy a Far Eastern night in front of the fire with your beau/belle with a nice curry
Vegan Thai Red Curry Paste was inspired by attending Thai Restaurant and wanting to create my own homemade vegan condiment to intoxicate the soul.
It forms a great base for curries and other dishes. Instead of shrimp paste, this is my vegan substitute. Oil makes a great preservative.
Vegan Thai Red Curry Paste is vegan condiment, paleo and raw.
Love.
Edward x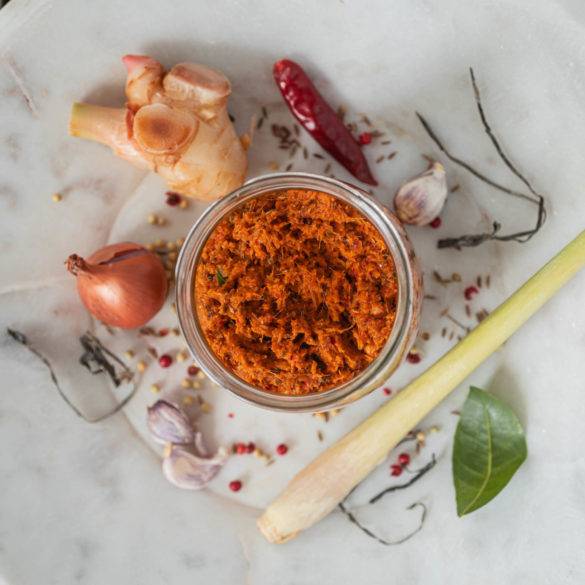 Ingredients
12 dry red chillies

6 shallots

1 lemongrass

4 cloves of garlic

3-inch galangal

6 kaffir lime leaves

2tsp dry kelp (about 2g)

1tsp coriander seeds

1tsp cumin seeds

1tsp peppercorns (I use red)

4tbs olive oil
Instructions
Mince the lemongrass in the grinder with the galangal. Transfer to a high-speed blender with the rest of the ingredients. Use a tamper stir stick as necessary. Return to the grinder to fine grind.
Transfer the Thai Red Curry Paste to a sterilised jar and use as necessary. Keep refrigerated and use within a month.