Vegan Thai Red Curry Paste homemade… It forms a great base for curries and other dishes. As you will know, I make ingredients and condiments from scratch.  I use kelp instead of shrimp paste. This is my vegan substitute. I use oil to act as a preservative. It is really easy to make this paste – all it is mixing all the ingredients together. Really, there is nothing like homemade Thai Red Curry Paste.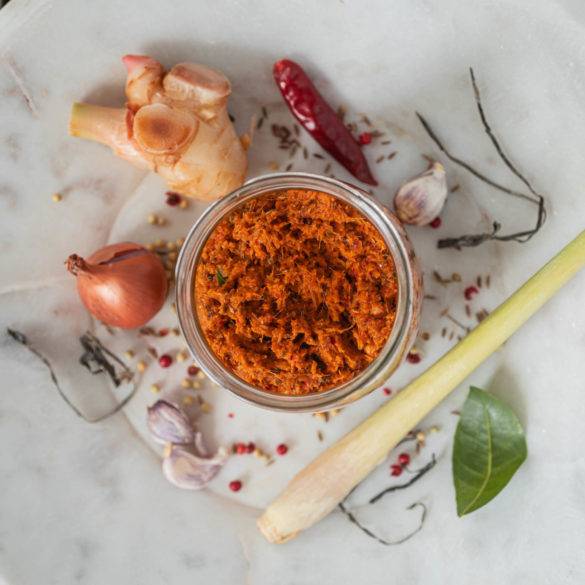 Ingredients
12 dry red chillies
6 shallots
1 lemongrass
4 cloves of garlic
3-inch galangal
6 kaffir lime leaves
2tsp dry kelp (about 2g)
1tsp coriander seeds
1tsp cumin seeds
1tsp peppercorns (I use red)
4tbs olive oil
Instructions
Mince the lemongrass in the grinder with the galangal. Transfer to a high-speed blender with the rest of the ingredients. Use a tamper stir stick as necessary. Return to the grinder to fine grind.
Transfer the Thai Red Curry Paste to a sterilised jar and use as necessary. Keep refrigerated and use within a month.