Smooth sensuous velvety Vegan Lobster Bisque Soup seasoned with candied citrusy cognac and a couple of delicate sweet shallots and ballistic garlic cloves.
Get all creamy.  And, climax.
This dish will adjust your belief that vegan food can't be super delicious and lush.
Make this when:
You're feeling carnal and looking for guilty pleasure but without ending up in the bedroom
You're creating an opulent fine dining experience with friends and looking to impress
You fancy something de luxe but want to keep it a secret from the rest of the World
Vegan Lobster Bisque Soup was inspired when wanting to create a guilt-free vegan version, less harmful for marine life yet packed with taste, and getting my apron and experimenting with Maitake mushrooms.
Creamy rich yet subtle, this Soup is one of my masterpieces and signature dishes.
This Soup is a vegan seafood dish.
Where I get my ingredients from
Maitake mushrooms (or also known as hen of the woods) have a rich, savoury yet zesty flavour to them. Use oyster mushrooms, if unavailable. I normally order my Maitake mushrooms from Livesey Brothers here in the UK. Great service and the Maitake is use for this recipe. 
What equipment to use
For this dish, I suggest:
High-speed blender
Stove
What to do next
Tag me on @ethiveganquantum on Instagram to show me what you've made and let me know you're happy for me to share.
My recipes are featured in vegan speciality publications: Nourished, Vegan Life, Plant Based and Vegan, Food and Living.
Order my first self-published book, "Essence: The Beginner's Guide to Veganism" part of the three-part Circle of Food series. My second book "Presence: The Ascending Vegan" – which explores how to maintain a vegan practice is out in 2027 – I have compiled all the chapters including recipes.
Going strong since 2013.
Love.
Edward x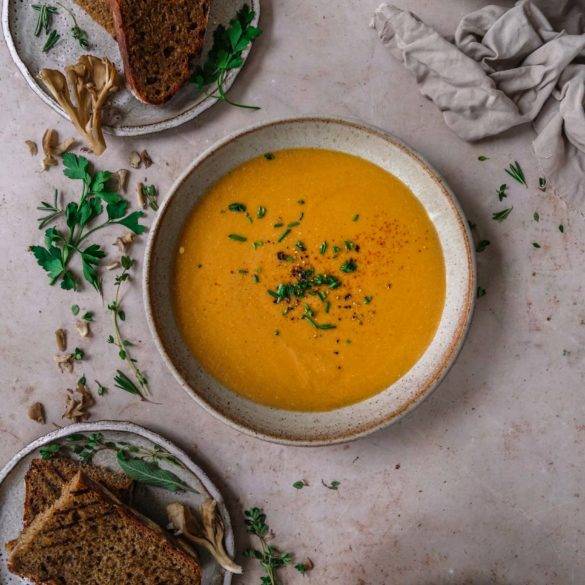 Ingredients
250g maitake mushrooms

1 carrot, medium

2 shallots, sliced

2 cloves of garlic, minced

2tbs olive oil

50ml cognac

200ml dry white wine

1 litre filtered water

2tbs tomato puree

150g tomatoes, halved

Around 20 saffron threads

1tbs maple syrup

Pinch of cayenne

For bouquet garni tied with string

Three sprigs of parsley

Couple of sprigs of sage

Couple of sprigs of rosemary

Couple of sprigs of thyme

Couple of bay leaves

For roux paste

40g vegan butter

3tbs potato starch

For almond cream

50g almonds, blanched

200ml water

For garnishing

Chives

Sweet paprika
Instructions
In a large saucepan, coat and sauté the maitake mushrooms, carrots, shallots, garlic for three or four minutes.
Pour in the cognac and white wine. Simmer for a further couple of minutes.
Pour in the filtered water. Cover and gently simmer.
Add in the tomato puree, tomatoes, saffron threads and maple syrup, with the bouquet garni. Cover and simmer the bisque under a low heat for 30 minutes.
Remove a couple of tablespoons of the mushroom and set aside for later as garnish.
Make the roux paste by softening the butter in a small saucepan. Add in the potato starch to form a paste. Add in some of the bisque liquid.  Once integrated add to the remaining bisque in the large saucepan.  Whisk well.
Season with salt, pepper and cayenne. Switch off the heat. Add in the almond cream.
Puree the bisque. Tweak any seasoning. Reheat at a low heat.
Serve, garnishing with the reserved mushroom. Sprinkle with chives and sweet paprika.