Earthy root swede, carrots, celery and leeks slowly simmered with lentils to produce a sweet soup; Vegan Welsh Cawl.
Get something heartedly warming inside you…And, glow.
This recipe will burst any belief that vegan food can't be simple to make.
Make this:
When you've got a dinner party and a heart-warming dish that's fulfilling will have you all comfy
When its blistering winter outside and a homely dish in front of the fire will get all warmed up
When you fancy an all-in-one dish that has all the vegetables and pulses that'll keep you nourished
Vegan Welsh Cawl was inspired when my Welsh best friend, Kevin helped me realise my vegan dreams, cooking alternatives as I turned vegan.  This dish was his support.
Cooked slowly over a long period at low heat which, ultimately allows the sweetness to mature, creating something lush and wholesome; just perfect, as the season gets colder.
Swede, otherwise known as rutabaga, is a versatile winter vegetable that with carrots becomes sweeter as it is left to cook.  It is known for its antioxidant content, helping with neutralising free-radicals and helping with premature ageing.
Cawl is a traditional Welsh dish.  I have simply veganised it as Vegan Welsh Cawl.
What to do next
Tag me on @ethiveganquantum on Instagram to show me what you've made and let me know you're happy for me to share.
My recipes are featured in vegan speciality publications: Nourished, Vegan Life, Plant Based and Vegan, Food and Living.
Order my first self-published book, "Essence: The Beginner's Guide to Veganism" part of the three-part Circle of Food series. My second book "Presence: The Ascending Vegan" – which explores how to maintain a vegan practice is out in 2027 – I have compiled all the chapters including recipes.
Going strong since 2013.
Love.
Edward x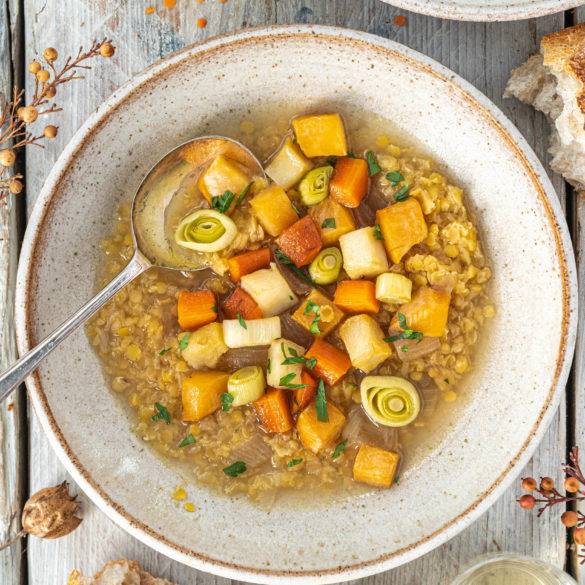 Ingredients
For stock

3 litres of filtered water

2 medium carrots, whole

1 stick of celery, halved

1 medium potato, halved

For soup

1 onion

2tbs olive oil

200g lentils

250g carrots, chopped

1 medium swede, chopped

200g potatoes

1 leek, chopped

Few sprigs of parsley
Instructions
Sauté the onion in olive oil until the onion becomes translucent. Set to one side.
In a large pan, make the stock by placing water together the carrots, celery, potato and onions. Bring to the boil. Simmer at a low to medium heat for an hour. Discard the potato. Chop the carrot and return to the stock.
Add lentils, further carrots and pinch of salt. Simmer for further couple of hours. This broth will keep till the following day, until needed.
30 minutes before serving add in the potatoes and cook. 20 minutes in add the leeks.
Just before serving swirl in the parsley.
Serve with bread and cheese.