Fleshy fennel and earthy leek cooked in coconut milk with garlic, thyme and sumac covered with toasted walnuts; Fennel Leek Walnut Stew.
Slather your tongue with something nutty and soft. And, indulge.
This dish will burst any belief that vegan food can't be easy to rustle up.
Make this:
When you've had a long day at work and fancy a nibble that'll have you reenergised in no time
When the nights are drawing in and a hearty meal that'll satiate those taste buds is much needed
When you've got a dinner party and you're pushed for time; a quick and easy dish is what you need
Fennel Leek Walnut Stew was inspired when having looked at my stark pantry I realised that creating a quick and dirty dish was no option when I had three main ingredients – fennel, leek and walnut.
This Stew is vegan and paleo.
What equipment to use
For this recipe, I suggest:
Stove
 What to do next
Tag me on @ethiveganquantum on Instagram to show me what you've made and let me know you're happy for me to share.
My recipes are featured in vegan speciality publications: Nourished, Vegan Life, Plant Based and Vegan, Food and Living.
Order my first self-published book, "Essence: The Beginner's Guide to Veganism" part of the three-part Circle of Food series. My second book "Presence: The Ascending Vegan" – which explores how to maintain a vegan practice is out in 2027 – I have compiled all the chapters including recipes.
Going strong since 2013.
Love.
Edward x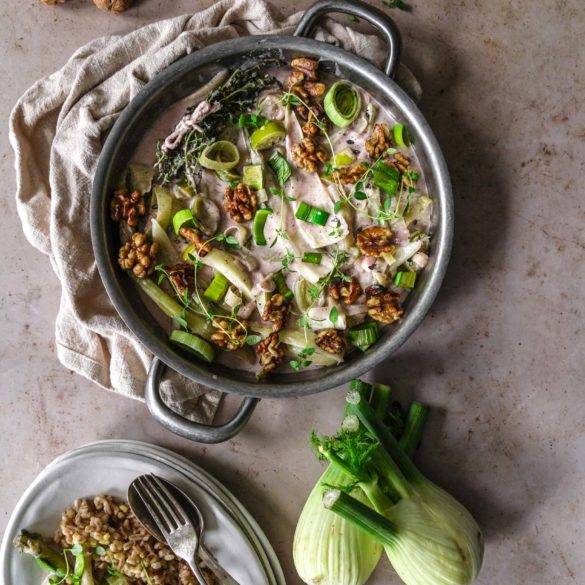 Ingredients
1 leek, stripped, quartered and diced

4 tablespoons of olive oil

1 shallot

400ml coconut milk

3 cloves of garlic

small bunch of thyme leaves

1tsp sumac

1 fennel bulb, chopped

50g walnuts

Season to taste
Instructions
In a large pan, sauté the shallot in a couple of tablespoons of oil, until translucent.
Pour in the coconut milk. Mix in the fennel, leeks, garlic, thyme and sumac. It might be easier to tie the thyme in some string.
Bring to the boil and reduce to a medium heat for about 15 minutes. Switch off the heat.
In a frying pan, toast the walnuts in the remaining oil over a low heat for a couple of minutes.
Season to taste and garnish with the walnuts.
Serve warm.