Soft pinkish-brown Rose Coco Bean Aubergine Stew with smoked paprika, ginger and garlic, with a touch of citrus lemon.
Tremble in anticipation and divulge in ecstasy. And, ingest.
This dish will obliterate your belief that vegan food can't be made with simple ingredients.
Make this:
When you fancy a dish reminiscent but takes baked beans up a notch
When a hearty meal is much needed as the dark evenings draw in
When you've just had a run out in the blistering cold and a dish that'll have you fixed up in no time tickles your fancy
Rose Coco Bean Aubergine Stew was inspired when I had been living in Lisbon. I had a budget of Euro 8, because I had expenses I needed to meet at that time. And, this was a cheap staple dish that kept me nourished.
Rose Coco beans are often referred to as crab eye beans, or borlotti beans. They are a staple to Indian cuisine.
Rose Coco Bean Aubergine Stew is vegan.
What equipment to use
For this recipe, I suggest:
Pressure cooker
Stove
What to do next
Tag me on @ethiveganquantum on Instagram to show me what you've made and let me know you're happy for me to share.
My recipes are featured in vegan speciality publications: Nourished, Vegan Life, Plant Based and Vegan, Food and Living.
Order my first self-published book, "Essence: The Beginner's Guide to Veganism" part of the three-part Circle of Food series. My second book "Presence: The Ascending Vegan" – which explores how to maintain a vegan practice is out in 2027 – I have compiled all the chapters including recipes.
Going strong since 2013.
Love.
Edward x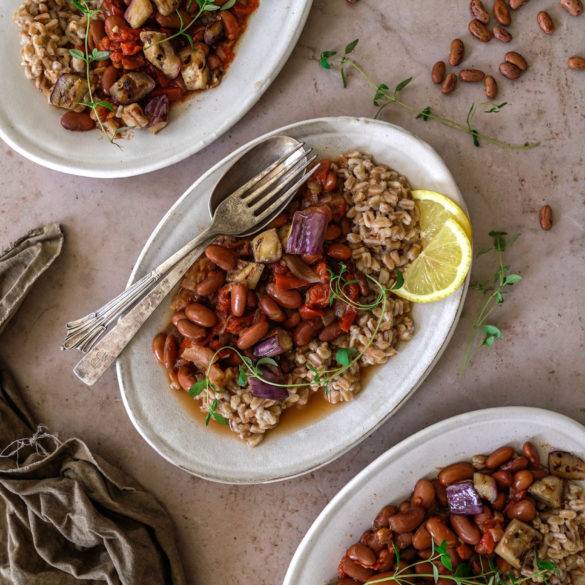 Ingredients
1 aubergine

4tbs oil

200g Rose Coco Beans, soaked in water for 48 hours beforehand, washed a couple of times during the soaking process

500ml filtered water

1 onion, sliced

2 medium tomatoes

1tsp tomato puree

1tsp smoked paprika

2 cloves of garlic

½ inch ginger, grated

½ lemon juice

Season to taste
Instructions
Roughly dice the aubergine. Place in a colander (with a bowl underneath) and dust with sea salt. Set to one side for a couple of hours.
In a pressure cooker, add the rose coco beans, onion, tomatoes and tomato puree, paprika, ginger, garlic, and place under pressure for 30 minutes.
Dry the aubergine with a kitchen towel and shallow fry in oil, until golden on either side.
Add the aubergine with oi to the stew and cook for a further 5 minutes.
Squeeze in the lemon.
Season to taste and serve.