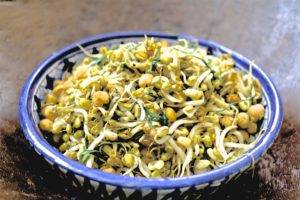 Wholefood Dry Toasted Chick Pea Mung Bean Sprouts
Wholefood Dry Toasted Chick Pea Mung Bean Sprouts came about for two reasons – firstly, I was suitably reprimanded a couple of my close loving friends because I haven't been consistent recently with my recipes – my mind having been focussed on writing my poetry books. And the second reason, I wanted an alternative to pasta in dish – and for me this comes by way of the bean sprouts. This is a quick and easy recipe.
Ingredients
250g cooked chickpeas
1 lime, juice and zest
1tsp paprika
1tsp matcha
1tsp oregano
½ inch fresh ginger, grated
250g mung bean sprouts
Chives, few sprigs, chopped
Instructions
Marinade the chickpeas in the lime juice and zest, paprika, matcha and oregano for a couple of hours.
Place the marinated chickpeas in a wok with the ginger and mung bean sprouts and sauté for about three to four minutes over a medium heat.
Garnish with the chives.
Serve.
_____________________________________________________
EthiVegan by Edward Daniel
What future would you like to paint? What I say is that it is possible to lead a fulfilling life by going within, living in alignment, letting go of the past and thriving on a vegan diet.
If you want to uncover your purpose and live a more enriching life, why not purchase my book "Essence: The Beginner's Guide to Veganism"?
To order your copy of "Essence: The Beginner's Guide to Veganism" click here
Subscribe to my EthiVegan Youtube channel – click here
For more information about me, Meet the author – click
Thanks for viewing my recipes and interviews.
Love you all.
Edward x
Edward Daniel | Servant to Humanity | Second Wave | Chef | Digital Information and Media Solicitor | Author | Poet | Presenter | Former Chair, The Vegan Society