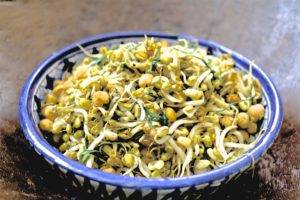 Wholefood Dry Toasted Chick Pea Mung Bean Sprouts
Wholefood Dry Toasted Chick Pea Mung Bean Sprouts came about for two reasons – firstly, I was suitably reprimanded a couple of my close loving friends because I haven't been consistent recently with my recipes – my mind having been focussed on writing my poetry books. And the second reason, I wanted an alternative to pasta in dish – and for me this comes by way of the bean sprouts. This is a quick and easy recipe.
Ingredients
250g cooked chickpeas
1 lime, juice and zest
1tsp paprika
1tsp matcha
1tsp oregano
½ inch fresh ginger, grated
250g mung bean sprouts
Chives, few sprigs, chopped
Instructions
Marinade the chickpeas in the lime juice and zest, paprika, matcha and oregano for a couple of hours.
Place the marinated chickpeas in a wok with the ginger and mung bean sprouts and sauté for about three to four minutes over a medium heat.
Garnish with the chives.
Serve.
_____________________________________________________
EthiVegan by Edward Daniel
Thank you for taking the time to view my recipes, interviews and events pages.  I hope I inspire you to make these recipes and also inspire you to become very best versions of yourself.
You can follow me on Instagram here (@ethivegan) where I have quick one minute update videos and for interviews and cooking demonstrations you can subscribe to my Youtube channel here.  You can watch live cooking demonstrations by subscribing to my Facebook profile here (@ethivegan).
For more information about me – click here
See you soon.
Love.
Edward x
Edward Daniel | Vegan Chef