Wholefood Jackfruit Seaweed with Grapefruit came about because I wanted to create something summery that was not too onerous. The other thing is that dish does not involve much heating which means it remains succulent. I serve this dish with zucchini spaghetti to give it freshness. I don't use oil in this recipe as the flavours just come steaming through without it.
What to do next
Tag me on @ethiveganquantum on Instagram to show me what you've made and let me know you're happy for me to share.
My recipes are featured in vegan speciality publications: Nourished, Vegan Life, Plant Based and Vegan, Food and Living.
Order my first self-published book, "Essence: The Beginner's Guide to Veganism" part of the three-part Circle of Food series. My second book "Presence: The Ascending Vegan" – which explores how to maintain a vegan practice is out in 2027 – I have compiled all the chapters including recipes.
Going strong since 2013.
Love.
Edward x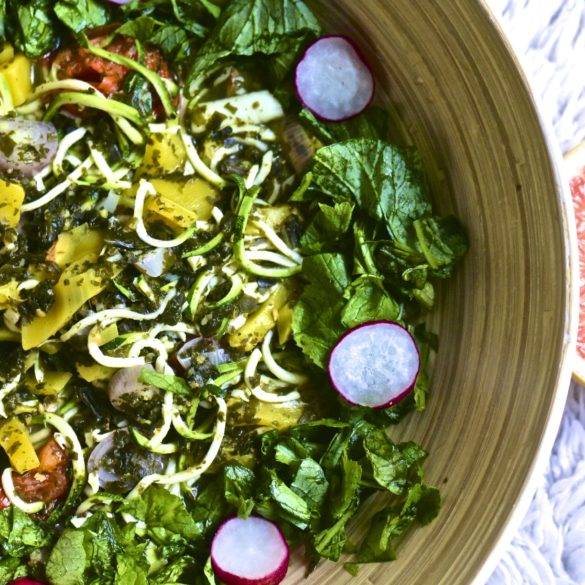 Ingredients
5g dried seaweed
300ml filtered water
2 cherry tomatoes, chopped
2 shallots
2 cloves of garlic, chopped
½ inch ginger, grated
125g jackfruit, ripe and chopped
½ grapefruit, juice
Instructions
Soak the seaweed in water in a large wok. Leave for about 10 minutes.
Add the tomatoes, shallots, garlic, ginger and cook over a gentle heat for about 5 minutes.
Add the jackfruit, and grapefruit juice. Gently heat for a further 5 minutes. Switch off heat.
Serve with zucchini spaghetti.