Cacao Ice Cream with Hazelnut Praline makes an amazing treat for a gorgeous sunny day. What I love about this dish is the texture, biting in you get the hazelnut praline scattered here and there.
Blanched almonds, I purchase from a nifty Asian outlet in Hayes.  It has an online presence too which can be found here – I love it because it is reasonably priced and tends to be good quality stuff which I use.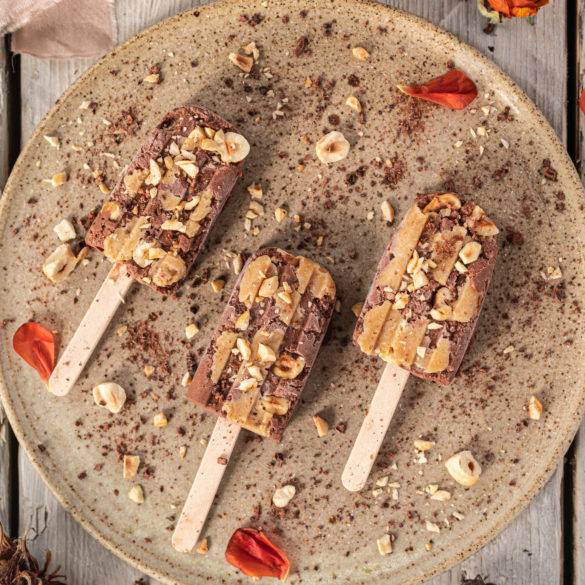 Ingredients
For Cacao ice cream
150g almonds, blanched
200g creamed coconut
100g raw unrefined cane sugar
50g cacao powder
400ml filtered water
1tsp vanilla extract
1tsp arrowroot
For Hazelnut Praline
75g hazelnuts
15g cocoa butter, melted
2tbs maple syrup
Pinch of salt
Instructions
Preheat oven to 180 degrees Celsius or if a convection oven to 160 degrees Celsius.
Make the praline, by placing the hazelnuts in an oven proof dish and bake in the oven for 15 minutes.
Remove the hazelnuts from the oven and place in a sieve over a mixing bowl and shake out the hazelnut skins. Use the back of a spoon, if need be.
Separate out two thirds of the blanched hazelnuts and place in a high-speed blender with the melted cocoa butter, maple syrup and salt. Place into a bowl.
Using a knife break the remaining hazelnuts and break into small pieces and add to the bowl. Cover and set in the fridge for about 4 hours. Set to one side.
Whizz the ice cream ingredients in a high-speed blender until fine.
Transfer the ice cream ingredients to an ice cream maker and mix for 30 minutes. Place in a large plastic container.
Break the hazelnut praline into small pieces and scatter into the container.
Transfer the ice cream into a freezer until frozen.
Defrost as needed. Serve.
As an option, sprinkle the ice cream with cocoa nibs.