Melt in your mouth. And, indulge in lushness.
Sweet tart tropical Raspberry Popsicle with a dash of lime and a pinch of salt to draw out a fuller intense flavour of the raspberries.
This dish will eliminate any belief that vegan food can't be made with a few simple home ingredients.
Make this:
When it's sweltering outside and you need to cool down from the blazing heat
When you've got a kiddie's summer party and popsicles to go around will have them enjoying the fun outside even more
When you've a barbecue going with the bevvies flowing and popsicles are your answer to keeping your temperature down
Raspberry Popsicle was inspired when picking raspberries at a friend's allotment on a hot sunny day and returning home to make Raspberry Popsicles to round off the sumptuous day.
Raspberries have a short season and short shelf life so best to consume fresh. Raspberries are native to Australia and are cultivated in poly tunnels and nurseries in the UK.
Raspberry Popsicle is vegan, raw and paleo.
Love.
Edward x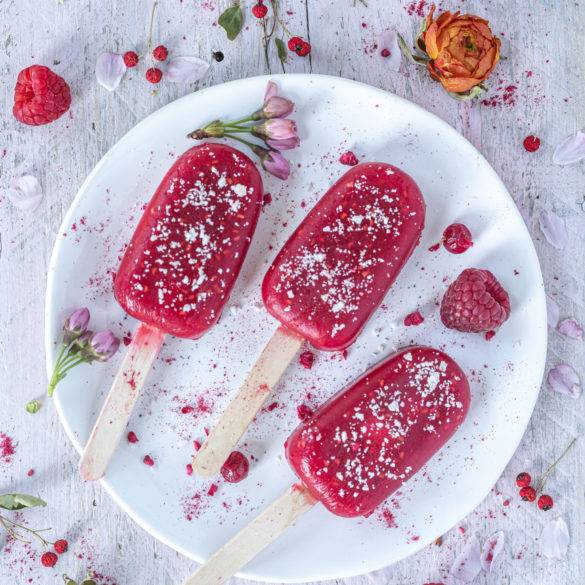 Ingredients
125g raspberries

20g raw unrefined cane sugar

½ lime juice

Pinch of salt
Instructions
Whizz the raspberries with the sugar, lime juice and salt in a high-speed blender.
Spoon the liquid into a popsicle mould.
Place in the ice cream stick and freeze for a few hours.
When ready to serve, pop out popsicle to release.
As an option, decorate with some desiccated coconut before serving.