Fasten your seatbelts. And, breathe in the fire.
Malaysian Spice Paste infused with candlenuts, lemon grass, ginger, galangal, turmeric and chilli and peanut oil.
This dish will temper your belief that vegan food can't be thoroughly nourishing.
Make this:
When you fancy a little Malaysian cuisine at home, a tinge of the Far East at your doorstop
When you've got a dinner party organised and need a base for the curry you're cooking up for mates
When it's freezing outside and a paste that'll warm your innards to a frenzy
Malaysia Spice Paste was inspired when visiting Kuala Lumpa with my parents and tasting the local cuisine as we'd made our way on coach from Singapore.
Malaysian Spice Paste forms the base for some of my Malaysian cuisine – Curry Laska found here, and Pineapple and Sweet Potato Rendang found here. What I love about this Curry Paste is that in it rich in flavours.
The candlenuts, I picked up while abroad. They add a rich smoothness and natural thickener. Don't be tempted to eat them raw as they contain toxins. Peanut oil I only work with in my Asian cuisine though do not be tempted to work with at too high a temperature.
Traditional Asian cuisine makes strong use of chillies but I temper mine recipes more for the Western palette.  Galangal and lemon grass bring texture and enhance the taste to this Malaysian Spice Paste.
This recipe lasts for 3 dishes – though, you could probably use it for 2 dishes – I find that this suits my palette. Store in glass jar ensuring that oil layers and seals the curry paste, preventing oxidisation.  This recipe will last a month in the fridge.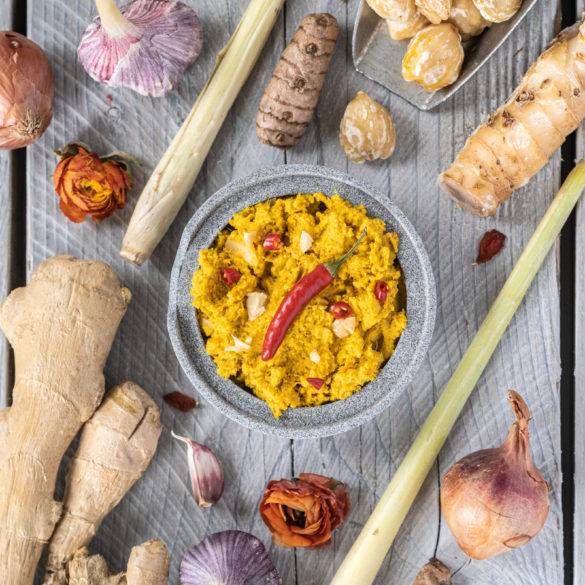 Ingredients
200g shallots
1 inch ginger, peeled
6 cloves of garlic
3 small red chillies, birds eye, deseeded
1 1-inch fresh turmeric, peeled
1 2-inch fresh galangal, peeled
2 lemon grass sticks, trimmed (use white parts only)
10 candlenuts (or alternatively, use 50g cashews)
2tbs peanut oil (or olive oil, if unavailable)
Instructions
Deseed the chillies and trim the lemon grass using the white parts only. Place all the ingredients in high-speed blender and whizz till fine.
Store in a sterilised glass jar. Pat down and seal with oil. Store in the fridge. Use within a month.
Use in a Malaysian curry dish, as required.