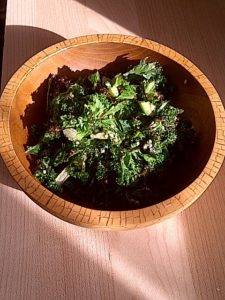 Kale chips with Lemon and Sesame Seeds
Kale is just so versatile and I love these chips as a healthy alternative to potato chips (which actually taste nothing like kale chips but the contrast need not be lost). Kale chips make a crispy crunchy baked snack. Guests will delight with these as a pre-starter The first time my flat mate ate these, this dish finished within minutes! They are exceptionally addictive and my services were required at speed. Let me know how you get on with this recipe?
Cuisine:
Vegan, Vegetarian, Paleo, Paleovegan
Ingredients
1 tbs lemon juice, freshly squeezed
3tbs extra virgin olive oil
½ tsp sea salt
2tbs roasted sesame seeds
200g fresh kale
Instructions
Pre-heat the oven to 180 degree Celsius.
Lightly grease a couple of large baking trays with oil and line with baking paper.
In a large mixing bowl, mix the lemon juice, oil, salt and sesame seeds together.
Toss in the kale and thoroughly coat with the lemon and sesame seed mixture.
Lay the kale in a single layer on the baking paper.
Bake for about 4 minutes, until almost crispy.
Top tip – care needs to be taken as kale will easily burn and it is better to serve these almost crispy.
Serve as a snack.