Mouth-watering melty cheese with tangy tamarind, mustard, vinegar, strong ale, peppery cayenne on grilled rustic bread; Vegan Welsh Rarebit.
Dive into something moist and erotic. And, erupt.
This dish will obliterate your belief that vegan food can't be this moreish.
Make this:
When you're idling on your phone in bed. And, need a cheese on toast to get you out of those weary pyjamas into full on hiking clothes
When you've got a fancy party on. And, need a lush hors d'oeuvre to go with the wine you're dishing out
When you've got a mate over for a flick and need a dish that'll have you focussed on the chin wag but digging the grub
Vegan Welsh Rarebit was inspired when having been invited by a mate to a fancy restaurant. I was dying to return home to make my own veganised version of this simple elegant dish.
Welsh Rarebit is a traditional 18th Century British dish and is a favourite here in the UK. It is actually a glorified, enticing and visual classy cheese on toast. It can be either served as light main dish or hearty snack. This Traditional Vegan Welsh Rarebit I made a few years back but I have altered the recipe to make it gluten free. Here I use tapioca flour. I love the strong intense flavours of this Traditional Welsh Rarebit.
As a reminder this savoury dish is vegan and gluten-free.
You can find
My apple, onion and mint chutney recipe here.
What equipment to use
For this recipe, I suggest:
High-speed blender
Broiler
What to do next
Tag me on @ethiveganquantum on Instagram to show me what you've made and let me know you're happy for me to share.
My recipes are featured in vegan speciality publications: Nourished, Vegan Life, Plant Based and Vegan, Food and Living.
Order my first self-published book, "Essence: The Beginner's Guide to Veganism" part of the three-part Circle of Food series. My second book "Presence: The Ascending Vegan" – which explores how to maintain a vegan practice is out in 2027 – I have compiled all the chapters including recipes.
Going strong since 2013.
Love.
Edward x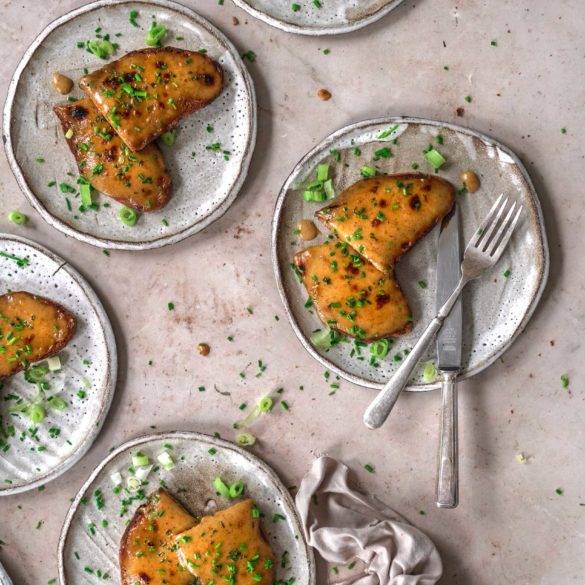 Ingredients
25g coconut oil
25g tapioca flour
100ml strong ale
1tsp English mustard powder
1tsp wholegrain mustard
1tsp white vinegar
1tsp tamarind sauce
pinch cayenne pepper
100g "melty" vegan cheese
4/5 slices rustic bread
Garnishing
Chives, chopped
Instructions
Grill the bread on one side and leave to one side.
Melt the coconut oil. Make a roux sauce by mixing in the tapioca flour. Transfer to a mixing bowl. Set to one side.
Place cheese in a high-speed blender with the remaining ingredients. Blend until smooth. Pour into the roux sauce in the mixing bowl.
Season to taste.
Spread and cover the cheese sauce over the untoasted side of the bread and return to the grill.
Broil the Rarebit until the cheese melts.
Garnish with chives.
Serve warm. (I serve with some nice apple, onion and mint chutney chutney)