Orange Cream Sourdough Pancakes I love because it makes a great breakfast treat. This will make about 6 pancakes. These Orange Cream Sourdough Pancakes are gluten-free.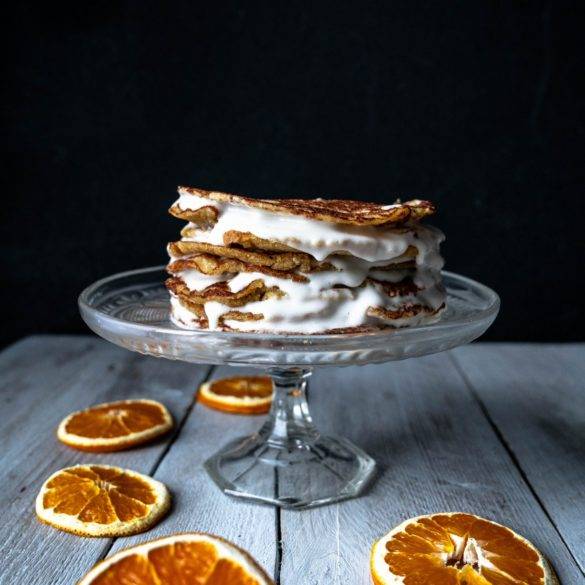 Ingredients
Activation
50g sourdough starter
25g millet
25g buckwheat
50ml filtered water
First autolyse
25g millet
25g buckwheat
100g raw unrefined cane sugar
100ml filtered water
Second autolyse
25g millet
25g buckwheat
1 orange, juice
1tsp orange blossom water
1tsp vanilla extract
Few drops of almond essence
Pinch of salt
Cream
1 tin of coconut milk
200g vegan yogurt
1tsp arrow root
1tsp xantham gum
Oil for frying
Instructions
Grind the millet and buckwheat and set aside. Similarly, grind the sugar.
Place a tin of coconut milk in the fridge overnight.
The day before in the morning, to start the activation process, mix the sourdough starter, 25g millet and 25g buckwheat and 50ml water together in a large bowl. Cover with a cloth and leave until evening. Leave at room temperature.
Later in the evening, mix in the 25g millet and 25g buckwheat, 100ml filtered water and sugar. Leave overnight.
The following day, add 25g millet and 25g buckwheat, orange juice, orange blossom water, vanilla extract, almond essence and pinch of salt. Cover for a couple of hours. The batter should now be frothy and full of pockets of air.
Remove the tin of coconut milk. Open the lid and remove the cream on top and place in a mixer and whizz. Add in the arrow root and xantham gum. Continuing whizzing. Switch off the mixer and using a spatula add in the yogurt.
Get a frying pan and add a teaspoon of olive oil. Put on a medium heat. Add a ladle of batter.  The first pancake tends to be a bit soggy so do not be disheartened. As the pan warms up keep adding a tablespoon of olive oil to cook the batter in.  The pancake is ready to flip when it no longer sticks to the bottom of the pan.  The pancake should turn a rich golden colour.
Serve with the cream.