Cherry Conserve I love for its soft set.  I love having with this for breakfast with bread and a little yogurt. Sometimes, I simply want to reach out after waking and meditation for some simple lush fruit to get my day going.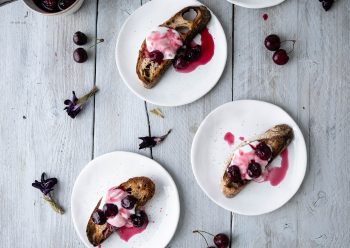 Ingredients
1kg cherries
320g raw unrefined cane sugar
1 lemon
Instructions
Destone the cherries and layer with the sugar and lemon juice.
Wrap the lemon peel in a muslin clothe.
Place the cherry mixture in a sauce pan and muslin bag.
Bring to the boil. Stir frequently. Boil for about 10 minutes.  Leave to cool.
Squeeze out the muslin bag with the hands and discard.
Place in a sterilised jam until needed.
Notes
By Edward Daniel, Vegan Chef and Former Chair of The Vegan Society. Contributor to Vegan Life Magazine, Plant Based Magazine, Vegan Food and Living Magazine and OK! Magazine. Speaker and cooking demonstrator at Vegan Life Life Festival London, Mind Body and Spirit Festival London, Veganes Sommerfest Berlin, and Bali Vegan Festival. Author of "Essence: The Beginner's Guide to Veganism".