Juicy sweet, tart and sour plump pitted cherries macerated in cane sugar and citrus lemon; Cherry Conserve.
Dip into something moist. And, lose a cherry or two.
This dish will burst your belief that vegan food can't be so easy to make.
Make this:
When you fancy sweet cherries with your morning bagels before you rush out the door for a Saturday smorgasbord of activities
When you got the kids chomping at the bits for a quick gorgeous dessert to go with their yoghurt
When you fancy lying in bed munching a piece of toast with some cherries and catching up on your latest Telegram feed
Cherry Conserve was inspired when visiting friends in Cornwall and returning with fresh handpicked cherries to rustle up a simple recipe to satiate our hungry appetites.
Cherries originate from Asia and have made their way to Europe and the Americas. Cherries have long been associated with the erotic.  But it also has a spiritual element; the cherry tree will bend when you go pick its fruits.
Cherry Conserve I love for its soft set.  I love having with this for breakfast with bread and a little yogurt. Sometimes, I simply want to reach out after waking and meditation for some simple lush fruit to get my day going.
Cherry Conserve is vegan, paleo and a condiment.
What equipment to use
For this recipe, I suggest:
Stove 
What to do next
Tag me on @ethiveganquantum on Instagram to show me what you've made and let me know you're happy for me to share.
My recipes are featured in vegan speciality publications: Nourished, Vegan Life, Plant Based and Vegan, Food and Living.
Order my first self-published book, "Essence: The Beginner's Guide to Veganism" part of the three-part Circle of Food series. My second book "Presence: The Ascending Vegan" – which explores how to maintain a vegan practice is out in 2027 – I have compiled all the chapters including recipes.
Going strong since 2013.
Love.
Edward x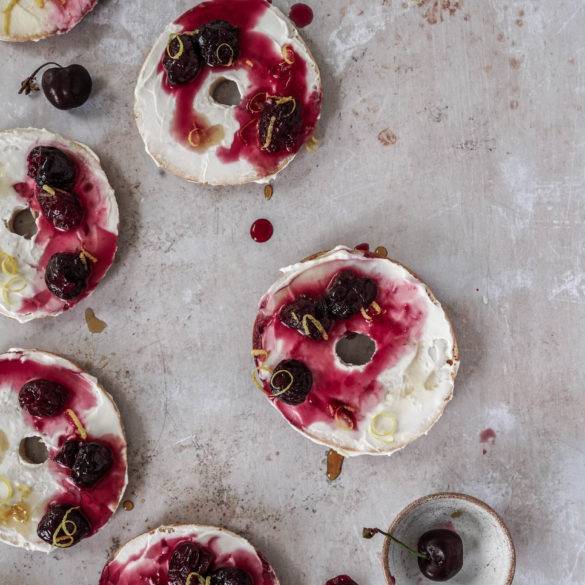 Ingredients
1kg cherries

320g unrefined cane sugar

1 lemon
Instructions
Destone the cherries and layer with the sugar and lemon juice.
Wrap the lemon peel in a muslin clothe.
Place the cherry mixture in a sauce pan and muslin bag.
Bring to the boil. Stir frequently. Boil for about 10 minutes.  Leave to cool.
Squeeze out the muslin bag with the hands and discard.
Place in a sterilised jam until needed.