Citrus flavoured sweet juicy cherries sandwiched in lashings of moist crusted bread; Cherry Bread Pudding.
Temper your hunger. And, bite into something wet.
This dish will burst your belief that vegan food can't be simple to drum up.
Make this:
When you're feeling lazy for a dessert and don't want to put too much effort in
When you're got some stale bread hanging around and rather repurpose it
When the fridge is virtually empty and you've got mates coming over for a bite and need a dessert that's pretty easy to make
Cherry Bread Pudding was inspired when I was feeling sluggish one time and just didn't want much effort for greatest amount of taste.
Cherry Bread Pudding is another of those really simple recipes that looks awesome and great for dinner parties. Sometimes, I just want to be able to use up my leftover ingredients; stale bread, makes a perfect pick me up.
Cherry Bread Pudding is vegan.
What equipment to use
For this recipe, I suggest:
Stove
What to do next
Tag me on @ethiveganquantum on Instagram to show me what you've made and let me know you're happy for me to share.
My recipes are featured in vegan speciality publications: Nourished, Vegan Life, Plant Based and Vegan, Food and Living.
Order my first self-published book, "Essence: The Beginner's Guide to Veganism" part of the three-part Circle of Food series. My second book "Presence: The Ascending Vegan" – which explores how to maintain a vegan practice is out in 2027 – I have compiled all the chapters including recipes.
Going strong since 2013.
Love.
Edward x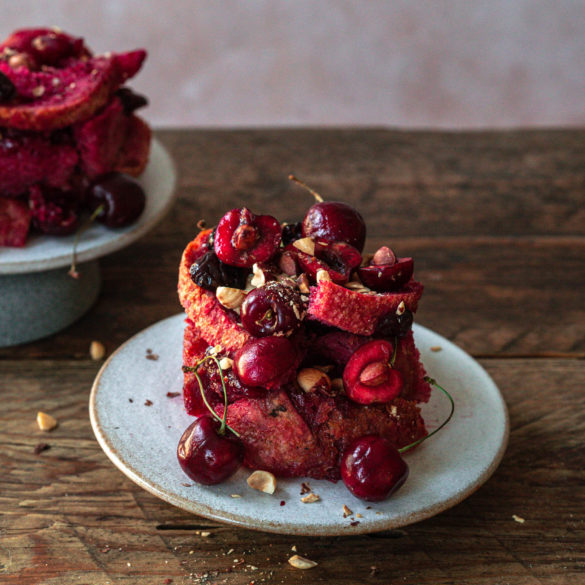 Ingredients
250g Stale bread (multigrain in this recipe)

500g Cherry Conserve (see recipe - https://www.ethivegan.com/recipe-cherry-conserve-vegan-paleo/)
Instructions
Cut stale bread into triangles and half stuff 4 ramekin dishes. Pour in some of the liquid and add some cherries.
Squash more bread over. it all in. Cover the cherry conserve, using more of the liquid element. Get your hands stuck in to squeeze out the liquid to ensure that it is thoroughly covered.
Place in the fridge overnight.
Turn over the ramekins onto serving dishes and serve.