Cherry Bread Pudding is another of those really simple recipes that looks awesome and great for dinner parties. Sometimes, I just want to be able to use up my leftover ingredients; stale bread, makes a perfect pick me up.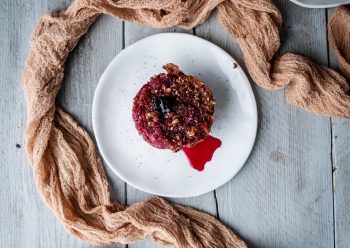 Ingredients
250g Stale bread (multigrain in this recipe)
400g Cherry Conserve (see recipe - https://www.ethivegan.com/recipe-cherry-conserve-vegan-paleo/)
Instructions
Take 4 ramekin dishes and slot in the stale bread. Squash it all in. Cover with the cherry conserve, using more of the liquid element.
Place in the fridge for around 24 to 48 hours. The longer the better as the flavours will intensify over time.
Turn over the ramekins onto serving dishes and serve.