Palestinian Grape and Grapefruit Maftoul Salad came about because I wanted to create something unusual and exotic. As I clamoured around my pantry I discovered I had some Maftoul hidden away for a day when I was feeling adventurous. Maftoul is a traditional Palestinian product that is sun-dried and made from bulgur weeks. The grains are larger and rounder than couscous and are a substitute for couscous, rice and bulgur.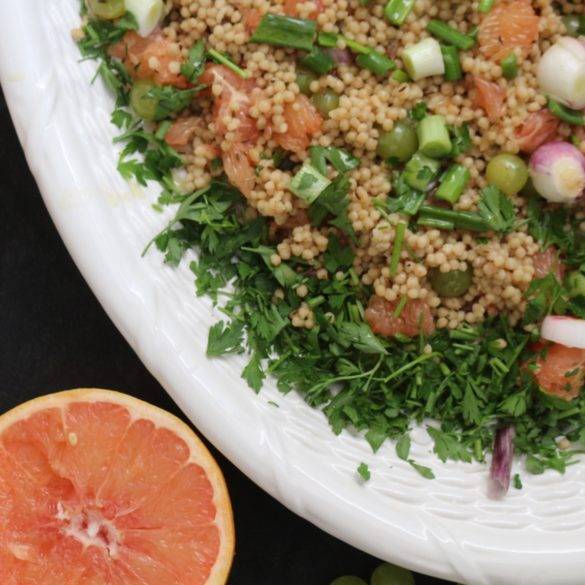 Ingredients
250g maftoul
500ml filtered water
1spring onion
bunch of parsley
1 grapefruit
100g grapes
1tbs caraway seeds
1tbs red wine vinegar
1tbs maple syrup
1/2 lime, juice
50ml extra virgin olive oil
Instructions
Place the maftout in a bowl in a steamer and cover with the filtered water. Steam for about 25 minute until the water is absorbed.
Chop the onion and parsley. Cut the grapes in two and deseed. Remove the skin and pith of the grapefruit and cut into chunks.
Grind the caraway seeds.
Combine the vinegar, maple, lime juice and oil and add the caraway seeds.
Once the maftout is soft and fluffy place in with the dressing in a large bowl.
Combine all the ingredients in a large serving bowl.
Serve.