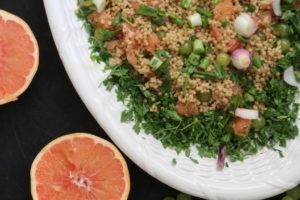 Palestinian Grape and Grapefruit Maftoul Salad
Palestinian Grape and Grapefruit Maftoul Salad came about because I wanted to create something unusual and exotic. As I clamoured around my pantry I discovered I had some Maftoul hidden away for a day when I was feeling adventurous. Maftoul is a traditional Palestinian product that is sun-dried and made from bulgur weeks. The grains are larger and rounder than couscous and are a substitute for couscous, rice and bulgur.
Recipe type:
Side, Salad, Starter
Cuisine:
Vegan, Vegetarian,
Ingredients
250g maftoul
500ml filtered water
1spring onion
bunch of parsley
1 grapefruit
100g grapes
1tbs caraway seeds
1tbs red wine vinegar
1tbs maple syrup
½ lime, juice
50ml extra virgin olive oil
Instructions
Place the maftout in a bowl in a steamer and cover with the filtered water. Steam for about 25 minute until the water is absorbed.
Chop the onion and parsley. Cut the grapes in two and deseed. Remove the skin and pith of the grapefruit and cut into chunks.
Grind the caraway seeds.
Combine the vinegar, maple, lime juice and oil and add the caraway seeds.
Once the maftout is soft and fluffy place in with the dressing in a large bowl.
Combine all the ingredients in a large serving bowl.
Serve.
_____________________________________________________
EthiVegan by Edward Daniel
What future would you like to paint? What I say is that it is possible to lead a fulfilling life by going within, living in alignment, letting go of the past and thriving on a vegan diet.
To find out more of what is happening in my life, journey, and travels – as I balance work as a full-time solicitor, being a vegan chef and creating new recipes, speaking at vegan events on animal rights, the environment, spirituality and activism in the United Kingdom and abroad, and write my next book then follow me:
Instagram – subscribe to get to know me personally and get regular updates.
Youtube – subscribe here for my interviews with trailblazer and those making a change and difference.
Or, self-published, order your copy of my first book "Essence: The Beginner's Guide to Veganism" in the three part "Circle of Food" series which is currently out here.  Reviews of this book can be found on Amazon here.
My second book in the "Cirlce of Food" series is entitled "Presence: The Ascending Vegan" covers animal rights/welfare and liberation (using my skills as a lawyer), spiritual chapters on living in the present, balancing the masculine and feminine, the Mandela effect, the Universal laws, and has even more recipes and poetry is out in 2020.
As I self-fund all my activities from my work as a solicitor – including self-publishing and attending events it is matter of living in alignment and the Universe in its wisdom will provide – and, of course, I have time to balance it all and simply create.
My end goal is to host my own T.V. show on vegan recipes and on veganism.  Please support me in my quest.
Love you all.
Edward x
Edward Daniel | Servant to Humanity | Second Wave | Chef | Digital Information and Media Solicitor | Author | Poet | Presenter | Former Chair, The Vegan Society