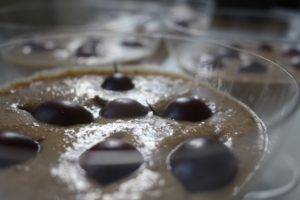 Gooseberry Baobab and Almond Dessert
Gooseberry Baobab and Almond Dessert came about to celebrate my friend, Michelle's birthday. It was a warm gorgeous sunny evening and the sun was streaming through my flat. I had just come from work. I was time limited and I wanted to create something simply and nourishing. In this recipe I use frozen gooseberries. Ideally they would have been fresh in the first instance. I like the way, an hour before I started I de-thawed the gooseberry – this means that as you bite into a gooseberry this delicious mouth-watery texture hits the palate and then you get the taste of the creamy dessert. Love it. Thanks, Michelle…
Cuisine:
Vegan, Vegetarian, Raw
Ingredients
500ml vegan cream
100g ground almonds
25g baobab powder
4tbs flaxseeds, ground
100g unrefined raw coconut sugar
250g gooseberries, frozen
Instructions
Take the gooseberries out from the freeze and thaw for about an hour. Leave to one side.
Place the cream in a food processor. Add the almonds, baobab, flaxseeds. Combine well.
Add the sugar. Taste to see if the quantity of sugar satisfies your needs. For me this is sufficient for the dessert.
Place the dessert into four serving bowls. Leave to one side in the fridge for about an hour.
When ready to serve evenly sprinkle the goosberries on top of the dessert.
Serve.
_____________________________________________________
EthiVegan by Edward Daniel
Thank you for taking the time to view my recipes, interviews and events pages.  I hope I inspire you to make these recipes and also inspire you to become very best versions of yourself.
You can follow me on Instagram here (@ethivegan) where I have quick one minute update videos and for interviews and cooking demonstrations you can subscribe to my Youtube channel here.  You can watch live cooking demonstrations by subscribing to my Facebook profile here (@ethivegan).
For more information about me – click here
See you soon.
Love.
Edward x
Edward Daniel | Vegan Chef