Gooseberry Baobab and Almond Dessert came about to celebrate my friend, Michelle's birthday. It was a warm gorgeous sunny evening and the sun was streaming through my flat. I had just come from work. I was time limited and I wanted to create something simply and nourishing. In this recipe I use frozen gooseberries. Ideally they would have been fresh in the first instance. I like the way, an hour before I started I de-thawed the gooseberry – this means that as you bite into a gooseberry this delicious mouth-watery texture hits the palate and then you get the taste of the creamy dessert. Love it. Thanks, Michelle…
Blanched almonds, I purchase from a nifty Asian outlet in Hayes.  It has an online presence too which can be found here – I love it because it is reasonably priced and tends to be good quality stuff which I use.
What to do next
Tag me on @ethiveganquantum on Instagram to show me what you've made and let me know you're happy for me to share.
My recipes are featured in vegan speciality publications: Nourished, Vegan Life, Plant Based and Vegan, Food and Living.
Order my first self-published book, "Essence: The Beginner's Guide to Veganism" part of the three-part Circle of Food series. My second book "Presence: The Ascending Vegan" – which explores how to maintain a vegan practice is out in 2027 – I have compiled all the chapters including recipes.
Going strong since 2013.
Love.
Edward x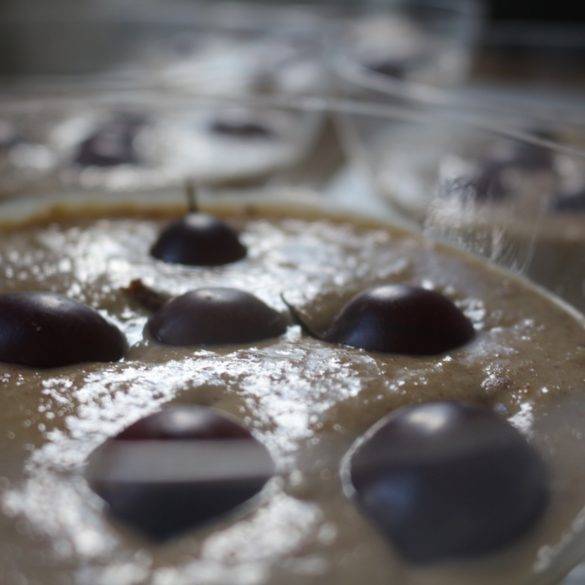 Ingredients
500ml vegan cream
100g almonds, blanched ground
25g baobab powder
4tbs flaxseeds, ground
100g unrefined raw coconut sugar
250g gooseberries, frozen
Instructions
Take the gooseberries out from the freeze and thaw for about an hour. Leave to one side.
Place the cream in a food processor. Add the almonds, baobab, flaxseeds. Combine well.
Add the sugar. Taste to see if the quantity of sugar satisfies your needs. For me this is sufficient for the dessert.
Place the dessert into four serving bowls. Leave to one side in the fridge for about an hour.
When ready to serve evenly sprinkle the gooseberries on top of the dessert.
Serve.