Crunchy nutty mouth-watering Apricot Baobab Chocolate Brownies enriched with almonds, millet, cocoa and chocolate.
Bite into crunch and yumminess. And, lounge.
This dish will have you somersaulting over your beliefs that vegan food can't be super awesome.
Make this:
When you've a lark in the park and need some treats that'll have you up and playing rounders in zilch time
When you've got a day at the beach and a yummy snack after you've taken a dive in the sea will have your shivers dissipate as you bite into pure lushness
When your kiddies need a scrumptious snack mid-morning as they languish on the playground
Apricot Baobab Chocolate Brownies was inspired when I held my first London Retreat with friends (Kevin, Michele, Oliver, Christiana, David and Martin).  These lush brownies were served that day and a testament to good friends pushing me to do even better.
Apricot Baobab Chocolate Brownies is vegan and gluten-free.
What to do next
Tag me on @ethiveganquantum on Instagram to show me what you've made and let me know you're happy for me to share.
My recipes are featured in vegan speciality publications: Nourished, Vegan Life, Plant Based and Vegan, Food and Living.
Order my first self-published book, "Essence: The Beginner's Guide to Veganism" part of the three-part Circle of Food series. My second book "Presence: The Ascending Vegan" – which explores how to maintain a vegan practice is out in 2027 – I have compiled all the chapters including recipes.
Going strong since 2013.
Love.
Edward x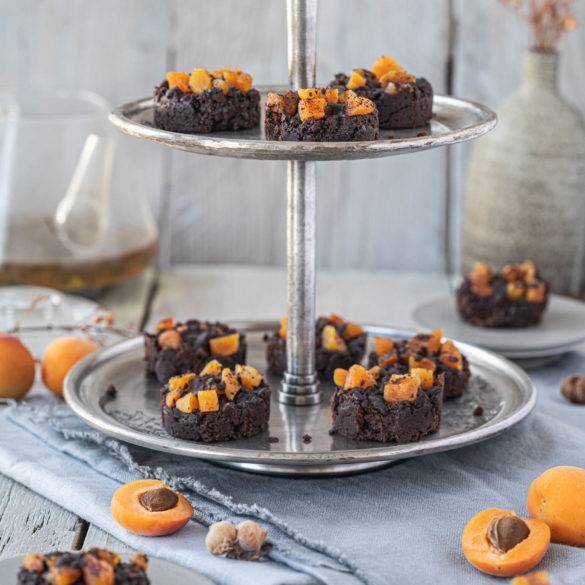 Ingredients
100g dried apricots, chopped

50g dark chocolate (at least 70% cocoa)

100g almonds, blanched ground

25g millet

100g raw unrefined cane sugar

50g baobab

50g cacao powder

75ml olive oil

120ml filtered water

Pinch of salt
Instructions
Pre-heat the oven to gas mark 180 degrees Celsius or if you have a fan oven 160 degrees Celsius.
Line a cake tin with olive oil or a 12 mini cake tray
In a high-food processor grind the almonds, millet, sugar and salt. Transfer to the mixing bowl and swirl in with a spatula.
Toss in the cocoa and baobab into the dry mixture.
Add into the brownie mixture the water and oil.
Chop and distribute the dark chocolate.
Distribute the brownies into the tray in equal measure.
Chop the dried apricots in a chop and spoon onto the brownies.
Cover the tray in aluminium foil and bake in the oven for 25 minutes
Remove from heat and set to one side until cool.
Serve.