Invigorating sweet fermented Tepache made from shavings of Pineapple rind packed with naturally formed probiotics.
Have a splash with something refreshing. And, float your boat.
This recipe will topple your belief that vegan food can't be simple to make.
Make this:
When you fancy something uplifting as you lounge on the terrace watching the sun setting
When you feel like a fiesta party for one as you listen to the latest song you're into
When you've had some pineapple and not sure what to do with the rind that'll have you all geared up
Tepache was inspired when attending a party and wanting to make my very own version. This drink originates from Mexico.
Tepache is a Mexican vegan fermented drink.
What equipment to use
I don't recommend any particular equipment for this drink.
What to do next
Tag me on @ethiveganquantum on Instagram to show me what you've made and let me know you're happy for me to share.
My recipes are featured in vegan speciality publications: Nourished, Vegan Life, Plant Based and Vegan, Food and Living.
Order my first self-published book, "Essence: The Beginner's Guide to Veganism" part of the three-part Circle of Food series. My second book "Presence: The Ascending Vegan" – which explores how to maintain a vegan practice is out in 2027 – I have compiled all the chapters including recipes.
Going strong since 2013.
Love.
Edward x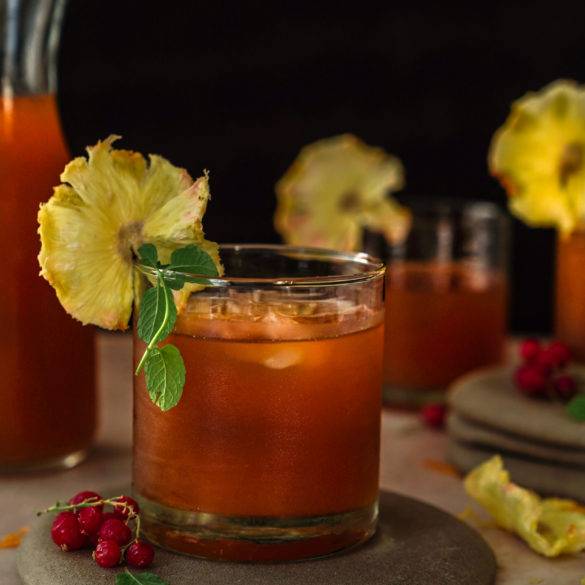 Ingredients
Rind from one pineapple

1litre filtered water

100 panela/rapadura

Pinch of cinnamon (optional)
Instructions
Take the rind of a pineapple (if not organic wash the outer surface). Place in a bowl in the fridge for three to four days. The rind should start to shrivel.
Place the rind in a large jar able to hold at least the filtered water. Place the rind at the bottom of the jar. Submerge in water, sugar and cinnamon.  Use a weight to ensure that the rind remains submerged under water. Cover with a muslin cloth. Leave out in the open for a further three to four days.
Once the bubbles start to appear you know the bacteria is at work breaking down the sugars and interacting with the rind to give it that flavour.
Enjoy chilled with some ice and fruit or simply drink on its own.