Raw Fennel with Grapes and Chives is another one of my lazy day dishes – when I simply want to spend time focusing on other chores rather than just cooking.
What to do next
Tag me on @ethiveganquantum on Instagram to show me what you've made and let me know you're happy for me to share.
My recipes are featured in vegan speciality publications: Nourished, Vegan Life, Plant Based and Vegan, Food and Living.
Order my first self-published book, "Essence: The Beginner's Guide to Veganism" part of the three-part Circle of Food series. My second book "Presence: The Ascending Vegan" – which explores how to maintain a vegan practice is out in 2027 – I have compiled all the chapters including recipes.
Going strong since 2013.
Love.
Edward x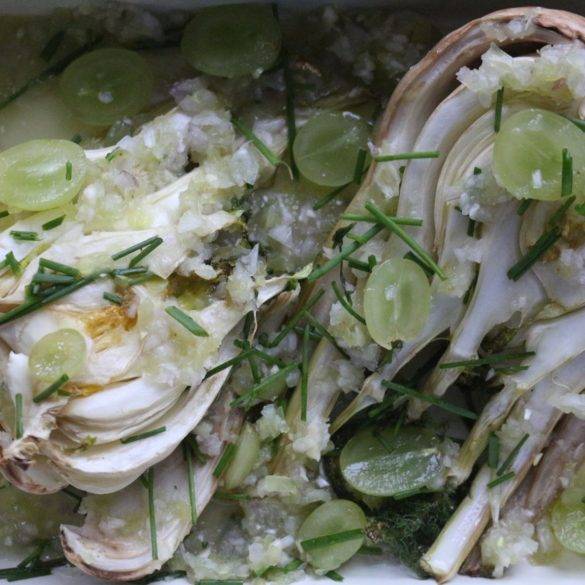 Ingredients
1 fennel
2 tbs extra virgin olive oil
400g grapes
2 shallots
1 clove of garlic, minced
few sprigs of chives, chopped
Instructions
Cut the fennel in two and place in an ovenproof dish. Drizzle with olive oil.
Blend 200g of the grapes with the garlic in a blender. Cut the remaining grapes in two halves.
Place the fennel in the oven at a low temperature – low enough temperature so that your hands do not burn. The purpose is to slightly dehydrate the fennel. When the skin of the fennel goes brown, it is ideal to take out of the oven.
Drizzle the fennel with the grape juice. Add the remaining grapes and chives.
Serve.