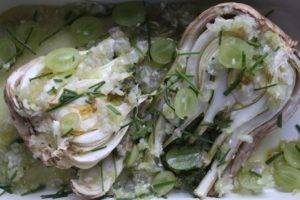 Raw Fennel with Grapes and Chives
This is another one of my lazy day dishes – when I simply want to spend time focusing on other chores rather than just cooking.
Cuisine:
Vegan, Vegetarian, Raw, Paleo, Paleovegan
Ingredients
1 fennel
2 tbs extra virgin olive oil
400g grapes
2 shallots
1 clove of garlic, minced
few sprigs of chives, chopped
Instructions
Cut the fennel in two and place in an ovenproof dish. Drizzle with olive oil.
Blend 200g of the grapes with the garlic in a blender. Cut the remaining grapes in two halves.
Place the fennel in the oven at a low temperature – low enough temperature so that your hands do not burn. The purpose is to slightly dehydrate the fennel. When the skin of the fennel goes brown, it is ideal to take out of the oven.
Drizzle the fennel with the grape juice. Add the remaining grapes and chives.
Serve.
Nutrition Information
Calories:
149
Fat:
7.4g
Saturated fat:
1.1g
Carbohydrates:
22.5
Sugar:
16.5g
Fiber:
2.7g
Protein:
1.6g
Cholesterol:
0
EthiVegan by Edward Daniel
What future would you like to paint? What I say is that it is possible to lead a fulfilling life by going within, living in alignment, letting go of the past and thriving on a vegan diet.
If you want to uncover your purpose and live a more enriching life, why not purchase my book "Essence: The Beginner's Guide to Veganism"?
To order your copy of "Essence: The Beginner's Guide to Veganism" click here
Subscribe to my EthiVegan Youtube channel – click here
For more information about me, Meet the author – click
Thanks for viewing my recipes and interviews.
Love you all.
Edward x
Edward Daniel | Servant to Humanity | Second Wave | Chef | Media IT IP Solicitor | Author | Presenter | Former Chair, The Vegan Society