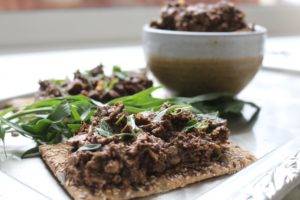 Raw Seaweed Mushroom Pate
Raw Seaweed Mushroom Pate is one of those easy recipes for when guests drop by for a drink, unexpectedly. Step forward, Craig….
Cuisine:
Vegan, Vegetarian, Raw, Paleo, Paleovegan
Ingredients
5g seaweed flakes
2 shallots, chopped
4tbs olive oil
2 cloves of garlic, minced
1tbs white wine vinegar
1tsp paprika powder
pinch of salt
400g mushrooms, Portobello
75g sunflower seeds
Instructions
Soak the sunflower seeds in water for an hour. Drain the excess water.
Blend all the ingredients (save the mushrooms and sunflower seeds) to a fine consistency in the a food processor
Add the mushrooms and sunflower and continue whizzing to the consistency you desire. I prefer to have small chunks of mushrooms and seeds.
Serve with crackers.
Nutrition Information
Calories:
173
Fat:
16g
Saturated fat:
1.9g
Carbohydrates:
5.8g
Sugar:
1.5g
Fiber:
1.9g
Protein:
4.9g
Cholesterol:
0
EthiVegan by Edward Daniel
What future would you like to paint? What I say is that it is possible to lead a fulfilling life by going within, living in alignment, letting go of the past and thriving on a vegan diet.
If you want to uncover your purpose and live a more enriching life, why not purchase my book "Essence: The Beginner's Guide to Veganism"?
To order your copy of "Essence: The Beginner's Guide to Veganism" click here
Subscribe to my EthiVegan Youtube channel – click here
For more information about me, Meet the author – click
Thanks for viewing my recipes and interviews.
Love you all.
Edward x
Edward Daniel | Servant to Humanity | Second Wave | Chef | Media IT IP Solicitor | Author | Presenter | Former Chair, The Vegan Society