Aleppo Pepper Rubbed Fennel is a spicy hot favourite of mine – I use fiery Aleppo pepper or pul biber which gives this dish somewhat of a kick.  It is great to serve during the Summer. I love how the garlic, marjoram, parsley and coriander seeds just enhance this dish.  Definitely, not for the faint hearted.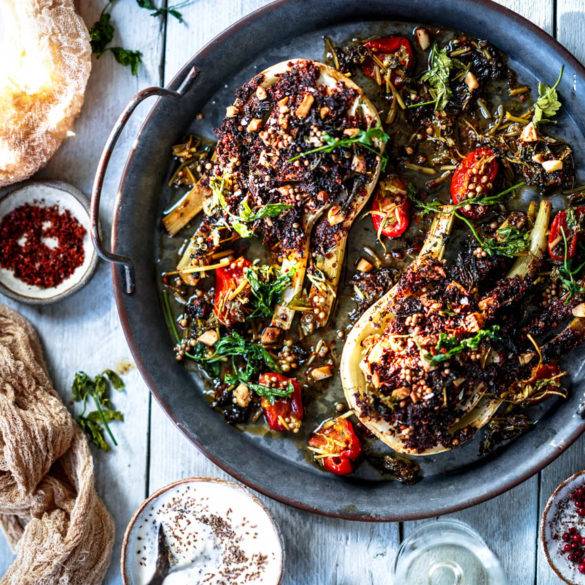 Ingredients
2 fennel bulbs
Rub
2tbs Aleppo pepper/Pul biber
4tbs thyme
2tbs olive oil
Sauce
200ml white wine
50ml olive oil
½ lime, juice
200g small plum tomatoes
Small bunch of parsley, chopped
1tbs coriander seeds
Pinch of salt and pepper
4 cloves of garlic, chopped
Garnish
Yogurt
Instructions
Preheat the oven to gas mark 180 degrees Celsius (or 160 degrees Celsius if fan oven).
Make the rub, by putting together Aleppo pepper, thyme and 2tbs oil in a bowl.
Slice the fennel bulbs through the centre. Rub the Aleppo mixture into the fleshy side of the fennel bulb.  Lay in a baking tray.
Make the sauce by combining the wine, the remaining oil, juice, parsley, garlic, coriander seeds and salt and pepper.
Drizzle the sauce all over the fennel.
Roast in the oven for 30 minutes.