Ravage on something smooth and creamy that will wet your appetite… And, relax.
Buttery floury Butter Bean Hummus with a hint of sweet paprika and a dash of tahini, lemon and virgin olive oil.
This dish will bulldoze any belief that vegan food can't be easily be made with some simple ingredients
Make this:
When you've got mates coming over for games night and you want a quick and dirty appetiser that will get the evening going
When you've just had a stressful day at work and want something that'll get you all chilled out in a spree
When a simple yet yummy starter is needed to get your dinner party going
Butter Bean Hummus was inspired when experimenting with butter beans having run out of chickpeas in my pantry and thinking what a great alternative this might turn out to be with what I had.
Butter beans, I get from a small Spanish deli in Dalston, London. The brand it stocks is called La Asturiana. This is one of the brands, I use. You can find the deli here
Butter Bean Hummus is a condiment and vegan.
Love.
Edward x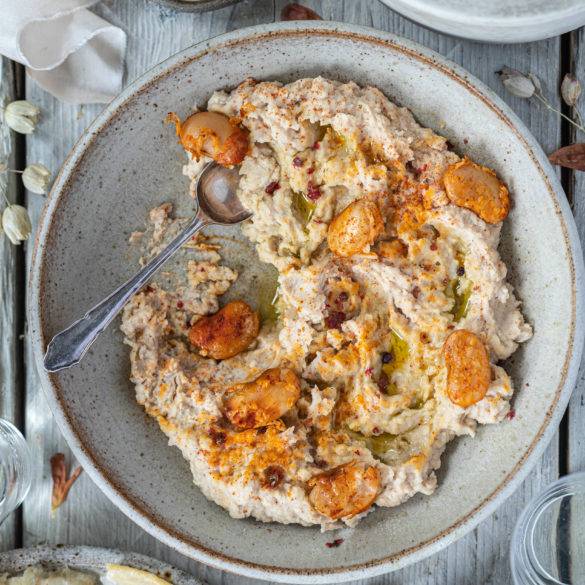 Ingredients
100g butter beans

20ml retained butter bean water

1tbs toasted sesame seed oil

2tbs olive oil

2tbs tahini

½ lemon, juice

1 clove of garlic

Pinch of salt and pepper

Garnishing

Pinch of paprika

1tbs olive oil

Oil for drizzling
Instructions
Soak the butter beans in filtered water overnight. Drain and place in a pressure cook with fresh filtered water.  Pressure cook for 30 minutes.  Drain the butter beans but retain the water.
Remove about 30g of butter beans. Cover with paprika and olive oil. Bake in a preheated oven at 180 degrees for 10 minutes. Set aside as garnish.
Placed the tahini, oil, juice, garlic and salt and pepper in a blender. Blend well.
Add in the butter beans and pulse roughly. Transfer to a serving dish.
Garnish with the baked butter beans. Drizzle oil over.
Serve with bread or whatever takes your fancy.