Chilled nutty almond and fruity grape soup with piquant sherry vinegar, garlic and spring onions; Almond and Grape Gazpacho.
This will topple your belief that vegan can't be super nourishing.
Make this:
When you're looking for a cleansing appetiser that'll have you feeling all refreshed and wholesome
When you've had a long day at the office. You are in need of a nourishing pick me up that'll have you up in a jiffy
When you're looking for an elegant simple entrée masterpiece for your lush dinner party
Almond and Grape Gazpacho was inspired when reminiscing about a New Year's Eve 7 Course dinner. I was in Madrid with an ex-beau and this lush starter just energised us.
This Gazpacho dish is raw, vegan and paleo. It is Spanish cuisine too.
Where I can get my ingredients from
Blanched almonds, I purchase from a nifty Asian outlet in Hayes.  It has an online presence too which can be found here – I love it because it is reasonably priced and tends to be good quality stuff which I use.
What equipment to use
For this recipe, I suggest:
High-speed blender
What to do next
Tag me on @ethiveganquantum on Instagram to show me what you've made and let me know you're happy for me to share.
My recipes are featured in vegan speciality publications: Nourished, Vegan Life, Plant Based and Vegan, Food and Living.
Order my first self-published book, "Essence: The Beginner's Guide to Veganism" part of the three-part Circle of Food series. My second book "Presence: The Ascending Vegan" – which explores how to maintain a vegan practice is out in 2027 – I have compiled all the chapters including recipes.
Going strong since 2013.
Love.
Edward x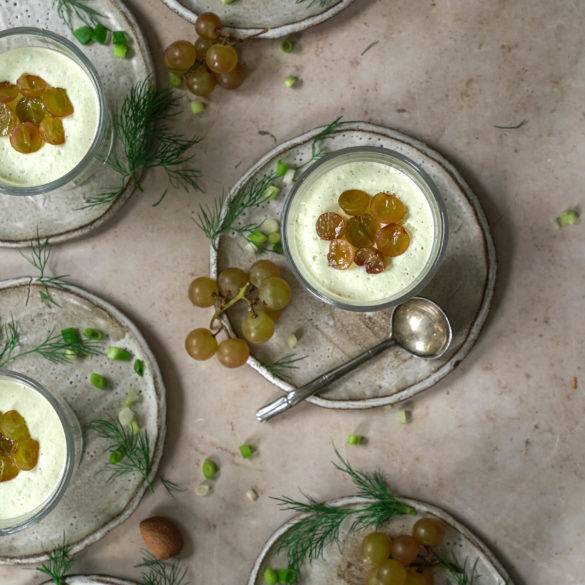 Ingredients
200g almonds, blanched

Bunch of spring onions (5 or 6)

2 garlic cloves

500ml filtered water

3tbs sherry vinegar

Season to taste

200g white grapesFew sprigs of dill
Instructions
Place the almonds, spring onions, garlic, vinegar and water in a liquidiser. Blend until smooth. Season to taste.
Place in a serving dish. Cover and chill for about a couple of hours.
When ready to serve. Slice the grapes in half and toss into the gazpacho.
Serve chilled. Garnish with dill.