Hibiscus Poached Pears is great non-alcoholic substitute. This dish is spiced with juniper berries and Star Anise.  I love how the hibiscus flowers adds colour and flavour to this dish. The flowers are edible and have a pleasing texture as you bite into both that and the pears.  I serve this with chocolate as I feel it complements that.
What to do next
Tag me on @ethiveganquantum on Instagram to show me what you've made and let me know you're happy for me to share.
My recipes are featured in vegan speciality publications: Nourished, Vegan Life, Plant Based and Vegan, Food and Living.
Order my first self-published book, "Essence: The Beginner's Guide to Veganism" part of the three-part Circle of Food series. My second book "Presence: The Ascending Vegan" – which explores how to maintain a vegan practice is out in 2027 – I have compiled all the chapters including recipes.
Going strong since 2013.
Love.
Edward x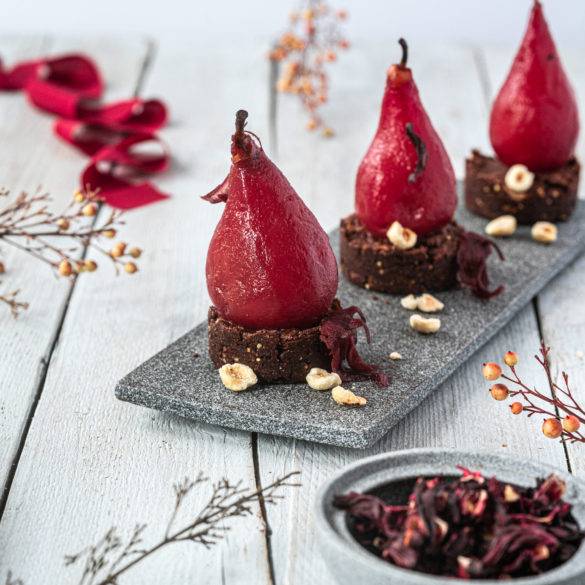 Ingredients
750ml filtered water
150g unrefined raw cane sugar
15g hibiscus flowers
4 juniper berries, crushed
1 star anise
6 pears
Instructions
Place the water with the sugar, hibiscus flowers, juniper berries Star Anise, and bring to the boil. Dissolve the sugar in the water and simmer for about 20 minutes. Switch off heat.
Peel the pears from top to bottom, making sure that the stalk remains intact. Slice of the very bottom of the peeled pear – this is to ensure that it does not topple and easily lies flat in the pan, later. Lay the pears in the wine after each peel.
Simmer over a low heat the pears with the lid of the pan partially covering.
Every few minutes, use a plastic spoon to pour the syrup over the tops of the pears. Repeat this exercise, until the pears are well blanched and have turned a lovely burgundy colour. This process should take about 1 hour and 30 mins.
Gently remove the pears from the heat and place each pear into a dessert bowl.
Under a medium heat, simmer the liquid so that it becomes a much thicker syrup.
Remove the spices from the pan and evenly distribute the syrup.
Chill the pears for about a couple of hours or preferably overnight.