Almond Biscotti – I love these twice baked biscuits because of they're sweet yet has this acidic side to them. I love how these dry biscuits makes a great treat. Sprinkle some icing sugar just for effect and a little extra.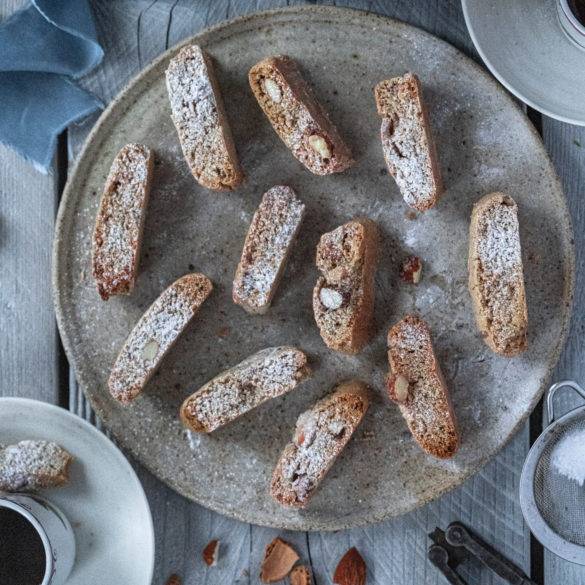 Ingredients
150g millet
30g flaxseeds
30g oats
100g raw unrefined cane sugar
80g blanched almonds, grounds
20g white rice flour
60g potato starch
2tsp baking powder
Pinch of salt
100ml olive oil
90ml Vin Santo
80g whole almonds, unblanched
Instructions
Preheat oven to 180 degrees Celsius, or if you have convection oven to 160 degrees Celsius.
Line a baking tray with parchment paper.
Grind millet, flaxseeds, oats, sugar, blanched almonds and salt in a high-speed blender. Place in a large mixing bowl.
Add the rice flour, potato starch and baking powder. Mix well with a spatula.
Stir in the olive oil. Then add the Vin Santo wine. Add in the whole almonds. Leave to rest for about 10 minutes.
Toss some white rice flour onto a surface and cut the dough in half with a spatula. Use your hands to scoop the dough onto the flour and turn it around in the flour. Scoop the dough onto the parchment and arrange into a rectangular with width of about 2 inches.
Cover the baking tray with aluminium foil. Bake in the oven for 30 minutes.
Remove the biscotti from the oven and leave to cool. Refrigerate in the fridge overnight or for at 6 hours.
Preheat the oven once again at the above temperature.
Using a sharp knife and cut the biscotti at 1 or 1.5cm intervals.
Bake in the oven for a further 10 minutes, uncovered.
Serve once cool. Drizzle with some icing sugar, if required.
Notes
By Edward Daniel, Vegan Chef and Former Chair of The Vegan Society. Contributor to Vegan Life Magazine, Plant Based Magazine, Vegan Food and Living Magazine and OK! Magazine. Speaker and cooking demonstrator at Vegan Life Life Festival London, Mind Body and Spirit Festival London, Veganes Sommerfest Berlin, and Bali Vegan Festival. Author of "Essence: The Beginner's Guide to Veganism".