Savoury sponge Dhokla cake with ginger, turmeric, chili, lemon topped with mustard, cumin, asafoetida and curry tadka.
Keep your ideals high. And, indulge into oblivion.
This dish will topple your belief that vegan food can't be super nutritious.
Make this:
When you're in the mood for a spicy afternoon tea party that'll kindle your fires
When you've satiated your appetite with sweets and now it's time to rebalance your taste bud with something hot and fiery
When you've got the lads over for games night and want a little distraction as you play your cards right
Dhokla was inspired when I had a fellow Asian work colleague bring these little beauties in for our afternoon break and chin wag.
Dhokla is this wonderful savoury afternoon treat. The chilli adds a kick but it really isn't necessary.  The tadka adds further vitality to this dish but sometimes I will just devour the Dhokla on its own, particularly when I am rushing round.
Dhokla is vegan and gluten-free.
What equipment to use
For this recipe, I suggest:
Food Processor
Pressure cooker
Stove
What to do next
Tag me on @ethiveganquantum on Instagram to show me what you've made and let me know you're happy for me to share.
My recipes are featured in vegan speciality publications: Nourished, Vegan Life, Plant Based and Vegan, Food and Living.
Order my first self-published book, "Essence: The Beginner's Guide to Veganism" part of the three-part Circle of Food series. My second book "Presence: The Ascending Vegan" – which explores how to maintain a vegan practice is out in 2027 – I have compiled all the chapters including recipes.
Going strong since 2013.
Love.
Edward x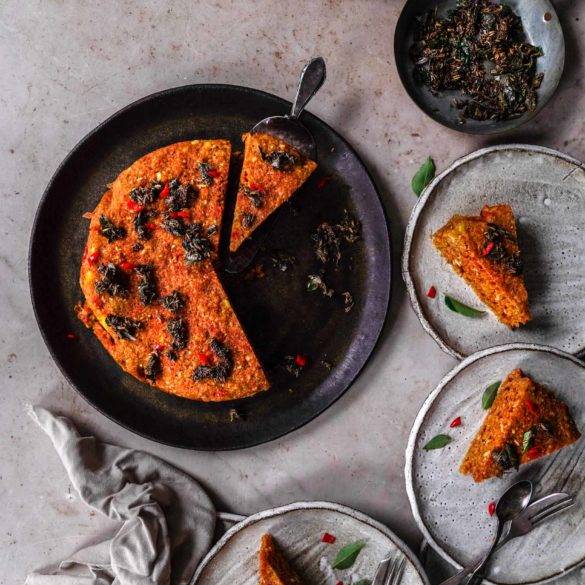 Ingredients
200g chana dhal

1-inch fresh ginger

¼ tsp salt

¼ chilli, deseeded (optional)

1tsp turmeric

1 lemon, juice

1tbs olive oil

1tsp bicarbonate of soda

50ml filtered water

For tempering

Few curry leaves, dry

1tbs olive oil

1tsp mustard seeds

1tsp cumin seeds

¼ tsp asafoetida
Instructions
Pre-soak the dhal overnight or at least for six hours. Drain any excess water.
Line a steam bowl with parchment paper and set to one side.
Blend dhal in a food processor with salt, ginger, and chilli (optional). Transfer to a large mixing bowl.
Add turmeric powder, lemon juice and olive oil.
Mix the bicarbonate of soda together with water. Lightly stir into the dhal mixture and sweep into a steam bowl.
Steam the dhokla in a pressure cooker the dhal for 15 minutes.
To make the tadka, chop the curry leaves and place with the oil, mustard seeds, cumin seeds and asafoetida in a small frying pan. Sauté for about 3 or 4 minutes.
Garnish the tadka on top of the dhokla.
Serve