Glamorgan Sausages and my vegan take on them is that they bare a slight sweetness borne by the melding of the sweated leeks, the soft taste of the cauliflower and vegan cheese; have a slight punchy taste of mustard and a hint of bitter parsley. I don't use breadcrumbs in my coating preferring a thin layer to bite into these lush Vegan Glamorgan Sausages. Breadcrumbs I take from stale bread or bread that is past its best, where possible.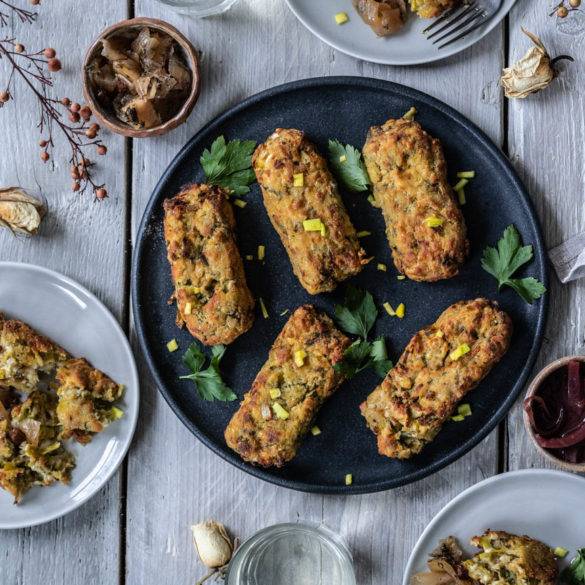 Ingredients
2 large leeks (weighing 500g but yielding 400g trimmed and finely chopped)
2tbs olive oil
200g Cauliflower florets
100b Cheese
100g breadcrumbs
30g flaxseeds
30g oats
1tsp wholegrain mustard
Few sprigs of Parsley
Season to taste
For coating
Gram flour
Coconut milk
Olive oil
Instructions
Sweat the leeks in olive oil for about 3 or 4 minutes. Set to one side.
Grate the cauliflower and cheese into a large mixing bowl.
Grind the flaxseeds and oats in a high-speed processor and add to the bowl with the breadcrumbs. Finely chop the parsley and add it to the mixture.
Once cool, add the leeks to the cauliflower mixture. Add the mustard and season to taste. Mix well with a spatula and set aside for about 10 minutes.
Lay a parchment paper onto a surface and have to the ready another baking tray lined with parchment paper.
Lay the gram flour, coconut milk and olive oil in separate dishes.
Using you hands grab some of the Glamorgan mixture and shape into sausages. Place onto the surface. Repeat action.
Dip the sausages first in the coconut milk return to the surface. Repeat action. Work quickly and wash hands as necessary.
Dip the sausages then the gram flour repeat as above.
Finally, dip the sausages in olive oil but place on the baking tray. Set aside for about 10 minutes.
Freeze those sausages you dont want to use just yet.
When ready to cook - Either cover the baking tray with foil and bake in the oven for 30 minutes at gas mark 180 degrees Celsius or if convention oven art 160 degrees – remove the foil and bake for a further 5 minutes. Alternatively, bake in an air fryer for about 7 minutes at 180 degrees Celsius.
Serve warm with some relish.