Sliced apple and burst berries covered with a layer of crunchy toasted millet and golden flaky oats; Apple and Blackberry Crumble.
Mash your tongue around something warm and crunchy.
Make this:
When you've got the in laws over for dinner and need to impress them with something warm and hearty
When you've got your nephews/nieces over for the day and want to show them the huge love you have for them
When you're at your self-catering weekend getaway and the ambience of that country stroll to linger
This recipe was inspired by foraging punnets of blackberries in the Cornish countryside.
This Apple and Blackberry Crumble has a hint of lime and a pinch of salt to lift it to ever dizzier heights.
This Crumble is vegan and gluten-free.
What equipment to use
For this recipe, I suggest:
High speed blender
Oven
What to do next
Tag me on @ethiveganquantum on Instagram to show me what you've made and let me know you're happy for me to share.
My recipes are featured in vegan speciality publications: Nourished, Vegan Life, Plant Based and Vegan, Food and Living.
Order my first self-published book, "Essence: The Beginner's Guide to Veganism" part of the three-part Circle of Food series. My second book "Presence: The Ascending Vegan" – which explores how to maintain a vegan practice is out in 2027 – I have compiled all the chapters including recipes.
Going strong since 2013.
Love.
Edward x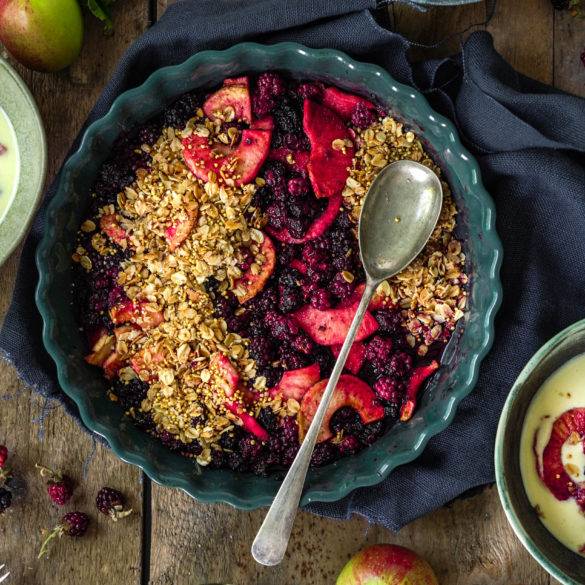 Ingredients
Base

400g apples

400g blackberries

50g maple syrup

1 lime, juice

Pinch of salt

Topping

150g millet grains

150g oats

50g coconut oil

40g unrefined cane sugar
Instructions
Preheat the oven to gas mark 180 degrees Celsius (or 160 degrees Celsius if fan oven).
In a bowl squeeze in the lemon juice.
Peel and slice the apple. Toss and coat in the lemon juice.
Pour in the maple syrup and toss in the blackberries and salt.
Toss the apple and blackberry mixture onto the base of a baking dish.
In high-speed blender, blend the sugar, and half of the oats and millet until fine.
In a large mixing bowl, mix together the millet, oats, and sugar. Add the coconut oil. Using your fingers gentle mix the ingredients until the oil has melted in.
Place the gluten-free topping over the apples and blackberries. Bake in the oven for about 20 minutes.
Serve hot with or without custard or tuck in with some ice-cream