Luxurious Sprouted Mung Bean Soup cooked in a mushroom flavoured stock, polished with sweet cherry tomatoes and lashings of fresh parsley.
Get a silky liquid broth with tailed mung beans slithering down your throat. And, slide.
This dish will set aside any belief that vegan food can't be simple to put together.
Make this:
When you've got a busy week at work and need a nourishing soup you can put in the pressure cooker in a few minutes
When it's summery and fancy a vegan consommé that'll leave a clean taste in the mouth, so to speak
When you've got a new beau/belle over for dinner and a starter that'll get ideas flowing in the right direction. Obviously, you want to be subtle…
Sprouted Mung Bean Soup was inspired when experimenting with germinating mung beans and realising they were so easy to grow.  Well soaked and aerated they can be left alone to blossom.
Sprouted Mung Beans are protein rich and full of soluble fibre and resistant starch leading to healthy gut bacteria.  They are also high in antioxidants helping to neutralise harmful free radicals.
Sprouted Mung Bean Soup is vegan.
What equipment to use
For this recipe, I suggest:
Stove
What to do next
Tag me on @ethiveganquantum on Instagram to show me what you've made and let me know you're happy for me to share.
My recipes are featured in vegan speciality publications: Nourished, Vegan Life, Plant Based and Vegan, Food and Living.
Order my first self-published book, "Essence: The Beginner's Guide to Veganism" part of the three-part Circle of Food series. My second book "Presence: The Ascending Vegan" – which explores how to maintain a vegan practice is out in 2027 – I have compiled all the chapters including recipes.
Going strong since 2013.
Love.
Edward x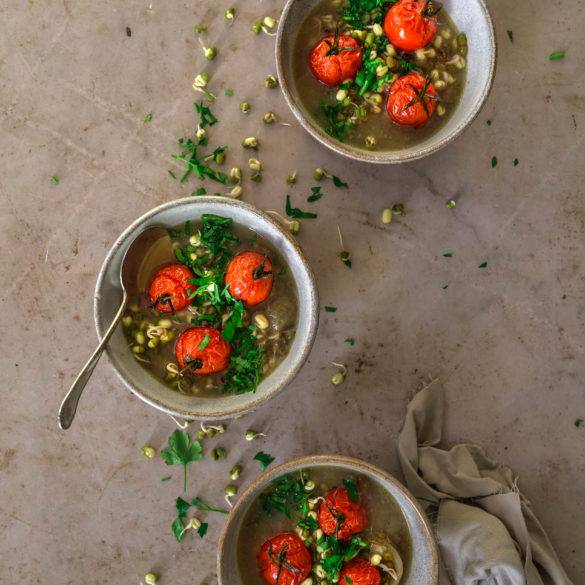 Ingredients
200g Mung Beans

1 onion, sliced

3 tbs olive oil

200g of cherry tomatoes

Season to taste

For the mushroom stock

1.5 litre filtered water

300g mushrooms
Instructions
Soak the mung beans in water for 48 hours, regularly drained and allowed to germinate. Once sprouted, allow to sit in the air for a further 48 hours. If not many of the beans have sprouted, then place again in water – but keep the water later for the mushroom stock. However, in allowing the germination process to take place, the beans will let air.
To make the stock, place the mushrooms with water into a medium pan. Bring to the boil and simmer gently for about 30 minutes. Remove from the heat. Drain and keep the liquid but discard the mushrooms.
In a frying pan, sauté the onion in oil until translucent. Transfer to a pressure cooker.
Add the mung beans, mushroom stock, cherry tomatoes and pressure cook for 5 minutes.
Season to taste.