This Apple Tart or Tarte aux Pommes, is another of my favourite recipes. I love the tart nature of the apples, especially when served with cream or ice cream.  It is a perfect accompaniment to a dinner and nourishingly heart-warming.
Prune puree, I purchase from Urban Native Organics and Wholefoods in Stroud Green, London.  It's a small store, which I support.  You can find them here 
It's the Clearspring brand that I use of the Prune puree.  Normally, once open, I place in the freezer for use subsequently.  This keeps it fresh and available to use at any time.
Amaranth seeds, I get from a non-profit small charitable store in Stoke Newington, London –  I like to support small outlets, where I can.  You can find the shop here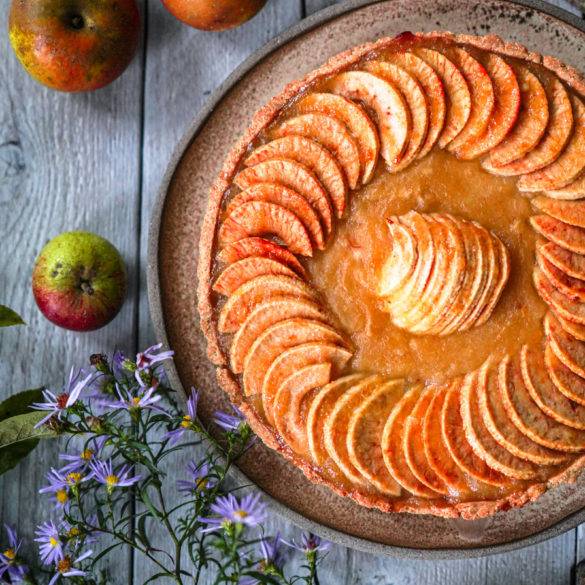 Ingredients
Filling
1kg cooking apples
45g coconut oil
4tbs filtered water
100g unrefined raw sugar cane
lemon, zest and juice
3tbs apricot jam
For the glaze
4 eating apples, cored, peeled and thinly sliced
2tbs apricot jam
2tbs filtered water, hot
2tbs apple sauce – removed from pulp
For the pastry
Dry ingredients
100g amaranth seeds
50g oats
25g flaxseeds
25g raw unrefined cane sugar
Pinch of salt
75g tapioca flour
Wet ingredients
2tbs apple sauce – removed from pulp
15g prune puree
8tbs filtered water
40g coconut oil
Olive oil for lining
Instructions
Line a 10-inch flan round tin with butter.
In a large non-stick saucepan, gently cook the apples with the oil and water – until the apple forms a pulp. This will take about 30 minutes.
Once the apple forms into a pulp, turn off the heat.
Make the pastry by placing the dry ingredients (not tapioca flour) into a high-speed blender and blending till fine. Transfer to a large mixing bowl add in the tapioca flour.
Toss in the prune puree and mix with hands. Next add the water. Continue using the hands. Then add the oil and knead into a bowl. Cover and leave the dough to rest in the fridge for about 30 minutes.
Form the dough into a ball and place between two sheets of baking paper. Roll out the dough into a thin circular layer. Remove one sheet and place around the flan dish.
Pre-heat oven to 180 degrees Celsius or if you have a convention fan, to 160 degrees Celsius.
Add the sugar, lemon zest and juice and apricot jam to the applesauce.
Prick the pastry and place in the oven for about 10 minutes.
Take the pastry from the oven and spread the apple puree the pastry. Gently smooth the puree.
Place and layer the slices of eating apple on top of the apple puree.
Make the glaze by combining the reserved apple juice, apricot jam and water. Using a pastry brush, glaze the sugar mixture over the eating apples.
Place the flan in the oven for 30 minutes.
Serve the Apple Tart with vegan cream.