Caramelised sugar basted over tart juicy apricots over a pillowy cream oat and nutty millet pastry; Apricot Tarte Tatin.
Tantalise your taste buds with something soft and moist. And, indulge.
This dish will topple your belief that vegan food can't be super yummy.
Make this:
When you've got a lavish dinner party. And, nothing short of a scrumptious dish that'll be zapped up in minutes
When you feel like relaxing with a bottle of wine and a natter with your bestie. Come on you have all the latest shenanigans to mull over and dissect
When you've just done the longest of bike rides. And, my words, your legs are giving way. A little sugar rush will have you jostling for air or another bike ride
Apricot Tarte Tatin was inspired when heading over to Lille on the Eurostar and having day out taking in the sites and gorgeous yummy food.
Apricots are native to the Mediterranean and are cultured even in the UK.  They grow during spring and summer when its warm and lush. To grow, they need much sunshine. Its their blushed reddish orange velvety skin that makes them a sure delight to bite into; pure utter sweet succulent yumminess.
Apricot Tarte Tatin is vegan, gluten-free and French cuisine.
What equipment to use
For this recipe, I suggest:
High speed blender
Oven
What to do next
Tag me on @ethiveganquantum on Instagram to show me what you've made and let me know you're happy for me to share.
My recipes are featured in vegan speciality publications: Nourished, Vegan Life, Plant Based and Vegan, Food and Living.
Order my first self-published book, "Essence: The Beginner's Guide to Veganism" part of the three-part Circle of Food series. My second book "Presence: The Ascending Vegan" – which explores how to maintain a vegan practice is out in 2027 – I have compiled all the chapters including recipes.
Going strong since 2013.
Love.
Edward x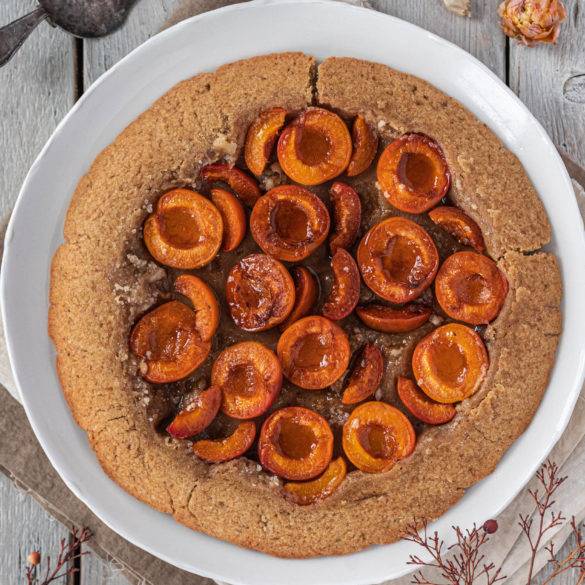 Ingredients
9 apricots

For syrup

100g unrefined cane sugar

25ml olive oil

For pastry

100g oats

100g millets

30g flaxseeds

75g unrefined cane sugar

30g white rice flour

30g tapioca flour

Pinch of salt

70ml filtered water

30g peanut butter

30g prune puree

25ml olive oil
Instructions
Preheat the oven to 180 degrees Celsius or if a convection oven to 160 degrees Celsius.
Line a tarte tatin or round pastry dish with olive oil.
In a non-stick pan over a low heat place the sugar until it crystallises and caramelises. Add in the oil to form a syrup.  The crystals should dissolve.  Pour the liquid syrup into the pastry dish.
Half the apricots and remove the stone.  Lay the apricots over the syrup.
In a high-speed blender grind the oats, millet, flaxseeds, sugar and salt. Transfer to a large mixing bowl.  Mix in the rice and tapioca flours.
Add in the water, peanut butter, oil and prune puree.  Use a spatula and then the hands to knead into a dough.  Set aside for 30 minutes.
Preheat the oven to 180 degrees Celsius or if a convection oven to 160 degrees Celsius.
Place the dough between 2 sheets of parchment paper and form into a circle. Lay the dough over the apricots.
Cover with aluminium foil and bake in the oven for about 35 minutes until golden brown.
Allow to cool for 5 minutes before turning out by placing an inverted plate over the dish and in one quick movement, turn the dish over.
Serve warm or cold.