Asparagus Pate imbued with cashews, pumpkin and sunflower seeds with a hint of sweet paprika and lemon juice.
Get your tongue something soft and lush. And, wriggle.
This dish will burst your belief that vegan food can't be simple to rustle up.
Make this:
When you've done a long run and need a quick pick me pate that'll have you out in door in no time, once again
When you've got your mates over for a dinner party and a twee starter to kick off your sumptuous meal is just what's needed
When it's summer and you've been to the farmer's market and discovered asparagus lurking
Asparagus Pate was inspired by a non-vegan friend of mine who absolutely loves Asparagus Pate; I made this vegan version to show how easy it is to veganise dishes.
Asparagus grows mid-Spring to early summer. It was cultivated in Ancient Rome and cultivated from the wild for millennia. Its native to western Asia, north Africa and Europe.  It's the young stalks that are edible and gives its delicate flavour.
Asparagus Pate is vegan, paleo and raw.
What to do next
Tag me on @ethiveganquantum on Instagram to show me what you've made and let me know you're happy for me to share.
My recipes are featured in vegan speciality publications: Nourished, Vegan Life, Plant Based and Vegan, Food and Living.
Order my first self-published book, "Essence: The Beginner's Guide to Veganism" part of the three-part Circle of Food series. My second book "Presence: The Ascending Vegan" – which explores how to maintain a vegan practice is out in 2027 – I have compiled all the chapters including recipes.
Going strong since 2013.
Love.
Edward x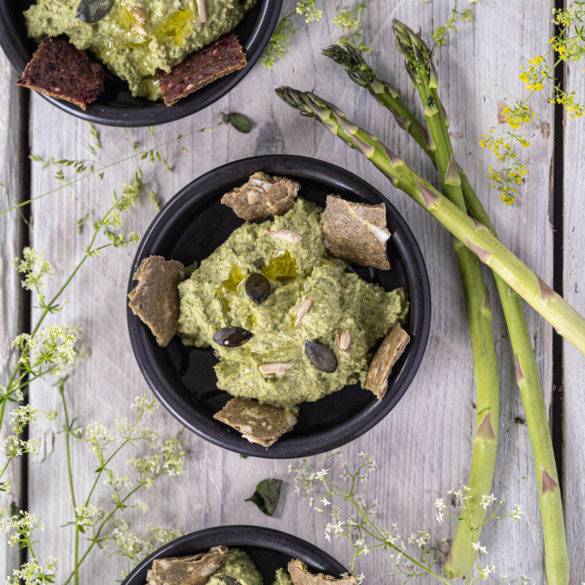 Ingredients
250g asparagus

25g sunflower seeds

25g pumpkin seeds

50g cashews

½ tsp sweet paprika

1tsp lemon, juice

2tbs olive oil

Pinch of salt
Instructions
Soak the seeds and cashews in water for about 8 hours or overnight. Drain and place in a high-speed blender. Blend well.
Tail the asparagus and add the remaining ingredients until fine to form a pate.
Serve the asparagus with crackers or toast.