Roasty smashable Garlic Confit slow-baked in anise-like fennel seeds, chilli flakes, woody rosemary and earthy bay leaves.
Solid bliss when you kiss something sweet and luscious. And, indulge.
This dish tumbles the belief that vegan food can't be simple to put together.
Make this:
When you've stretched out of bed with a good night's sleep and need a little Garlic Confit to go with your morning toast
When you're up in the morn, and a dish to wake you up start your day with the bang, is just what's needed
When your bestie has a sleepover from a heavy night and dish that'll bring some zine
Garlic Confit was inspired when indulging in a little brekkie snack with an ex-beau when in Ravello on the Amalfi Coast.  Sweet luscious Garlic Confit served on a slice of crunchy toast overlooking the coastline on our sumptuous balcony.
Confit is slow-cooked ingredient in fat.  It's a traditional French cooking method. I love serving this with toast in the morning or as a snack when I am feeling peckish.
Garlic Confit is vegan and paleo.
What to do next
Tag me on @ethiveganquantum on Instagram to show me what you've made and let me know you're happy for me to share.
My recipes are featured in vegan speciality publications: Nourished, Vegan Life, Plant Based and Vegan, Food and Living.
Order my first self-published book, "Essence: The Beginner's Guide to Veganism" part of the three-part Circle of Food series. My second book "Presence: The Ascending Vegan" – which explores how to maintain a vegan practice is out in 2027 – I have compiled all the chapters including recipes.
Going strong since 2013.
Love.
Edward x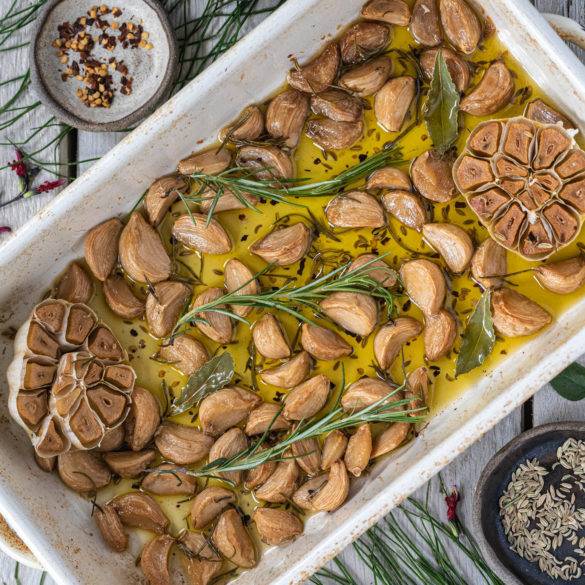 Ingredients
300g garlic cloves, deskinned

100g olive oil

1tsp fennel seeds

1/4tsp chilli flakes

Pinch of salt

Few sprigs of rosemary

2/3 bay leaves
Instructions
Preheat oven to 120 degrees Celsius or if convection oven to 100 degrees Celsius.
Place the garlic cloves in a baking dish and drizzle over the oil and add the remaining ingredients.
Roast in the oven for 1 hour 30 minutes.
Place in sterilised jar. Ensure the garlic is submerged in oil and if not top up with extra oil. Cover and seal and store in the fridge and use as necessary within 2 weeks.
Remove and smash the garlic, as needed and serve with toast. Use the oil remaining left as garlic oil.