Get heady with something cooling that will add zing to your day. You'll be buzzing…
This dish will tumble your belief that vegan food can't be made with a few simple household ingredients.
Make this:
When its blazing hot outside, and you're wanting a dish that is refreshing and will get you cold under collar
When you're going a detox and uncertain with where to start – this dish will get you on your way
When you fancy a little me time and can't be fecked with much preparation, let alone any cooking
Avocado Mint and Cucumber Soup was inspired when mooching around the farmers' market with a visiting vegan friend and stumbling back home armed with fragrant mint, ripe avocadoes and cucumbers in tow.
Avocado Mint and Cucumber Soup is vegan, paleo and raw.
Love.
Edward x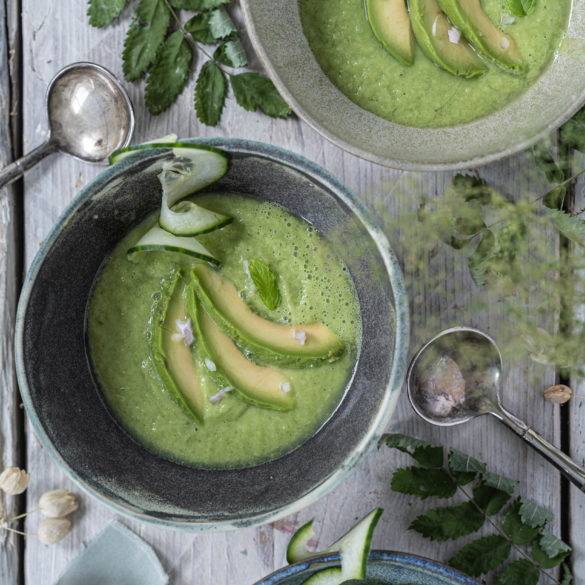 Ingredients
½ lime, juice
1 cucumber
1 avocado, skinned and deseeded
1 shallot
leaves from 3 sprigs of mint
1 cloves garlic
250ml water
mint for garnishing
season to taste
Instructions
Combine all ingredients in a blender and whizz to a fine consistency.
Season to taste.
Transfer the soup to a serving bowl. Garnish with mint leaves and serve.