Splurge into a liquid summer punch. And, bathe your parched soul.
Macerated fruity Sangria cocktail classic with wine and chopped citrus orange, bitter cucumber and juicy sweet strawberries.
This drink will blow away your belief that you can't create a vegan cocktail this tasty.
Make this:
When you're feeling reminiscent for the streets of Barcelona and fancy a touch of punch but at home
When you fancy a quick to rustle sneaky pre-drinks at home before you rush out to the party in town
When you're in the garden at home with the sun blazing and fancy an accompaniment to the barbeque you are rustling up
Sangria was inspired when having an evening pre-drink at a friend's apartment in Barcelona.  My bestie and ex-beau were vy8ing for wine soaked in fruity delicious flavours.
Sangria originates from ancient Rome, when fruits and herbs were added to foul tasting table wine was added to unsafe water.
Sangria is a vegan cocktail drink.
Love.
Edward x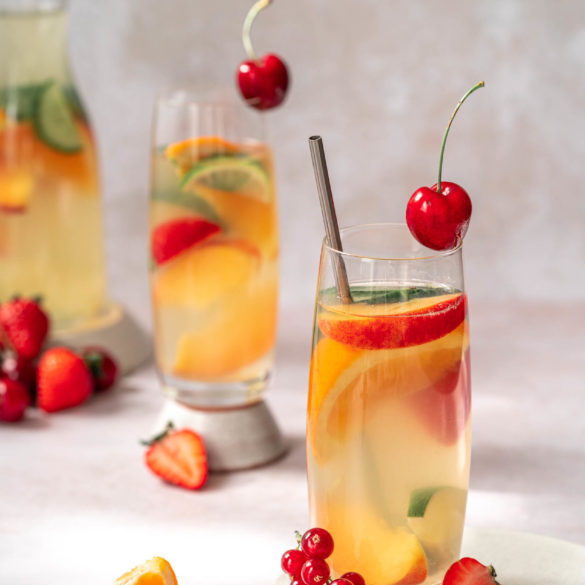 Ingredients
750ml wine

500ml orange juice (not from concentrate)

2tbs raw unrefined cane sugar

¼ cucumber

100g strawberry

½ orange, sliced

Few sprigs of mints

Filtered ice for serving
Instructions
In a large mixing bowl pour in the wine and orange juice. Dissolve the sugar.
Cut the orange and cucumber into small segments and toss in with the sliced strawberry. Stir. Leave to macerate for about an hour.
Transfer to a serving jug and add the mint.
When ready to serve, add ice to the glass before pouring in the Sangria.