Sour tangy pureed gooseberries and lime churned with a dash of sugar to form a mouth-watering uplifting Gooseberry Sorbet.
Scoop something chilled and refreshing. And, relax.
This dish will ruffle any belief that vegan food can't be made with some simple household ingredients.
Make this:
When it's a blistering summer and you're relaxing in the garden; an intoxicating pick-me up that'll have you lounging in the sun
When you've had a day at the beach and returning home digging into the freezer too enlighten your spirit
When you're hot in the collar and a dish that'll have your beau/belle eating out of your hand
Gooseberry Sorbet was inspired when attending a farmer's market one summery morning and returning home, with the sun blazing yonder.
Sorbets open up the palette at the start of a meal or at the end and are a semi-frozen dessert made from sugar-sweetened water with fruit.  Sorbets originate from the Middle East.
Gooseberry Sorbet is vegan, paleo and raw.
What to do next
Tag me on @ethiveganquantum on Instagram to show me what you've made and let me know you're happy for me to share.
My recipes are featured in vegan speciality publications: Nourished, Vegan Life, Plant Based and Vegan, Food and Living.
Order my first self-published book, "Essence: The Beginner's Guide to Veganism" part of the three-part Circle of Food series. My second book "Presence: The Ascending Vegan" – which explores how to maintain a vegan practice is out in 2027 – I have compiled all the chapters including recipes.
Going strong since 2013.
Love.
Edward x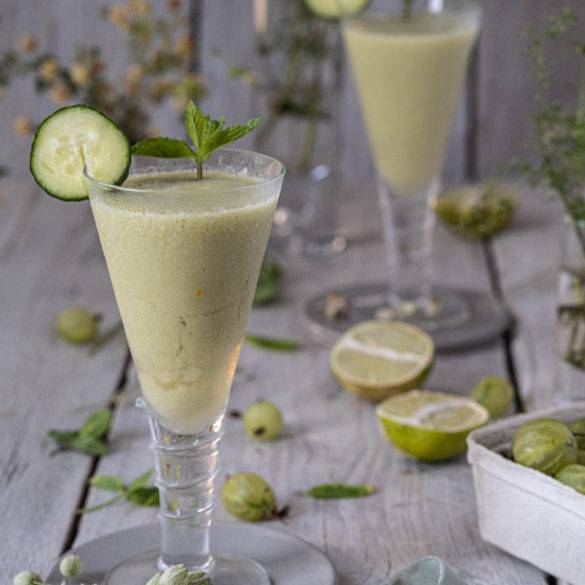 Ingredients
50g raw unrefined cane sugar

200ml filtered water

½ lime, juice and zest

200g gooseberries

½ tsp arrowroot
Instructions
Place the sugar in high-speed blender and blend till fine.
Add in the water. Gradually add the lime juice and continue whizzing.
Pulse the gooseberries in a blender until well blended and add in the arrowroot and continuing whizzing.
Spoon the sorbet into glasses and place in the freezer for a couple of hours.
Remove from freezer, 10 minutes before serving.