Baked Pumpkin with Blood Oranges, Pomegranates and Hazelnuts is one of my traditional birthday dishes. It is dish that comes out again and again for those special occasions. However, the other day I simply fancied making this dish; this is a time for introspection and for clarity – to meditate, go within and connect with Spirit.
And, so I made this dish and been gorging on it for last few days, I even add a little vegan milk as alternative to cereal.
It's so easy to use oats – they are so versatile and act as natural binders in dishes.
What to do next
Tag me on @ethiveganquantum on Instagram to show me what you've made and let me know you're happy for me to share.
My recipes are featured in vegan speciality publications: Nourished, Vegan Life, Plant Based and Vegan, Food and Living.
Order my first self-published book, "Essence: The Beginner's Guide to Veganism" part of the three-part Circle of Food series. My second book "Presence: The Ascending Vegan" – which explores how to maintain a vegan practice is out in 2027 – I have compiled all the chapters including recipes.
Going strong since 2013.
Love.
Edward x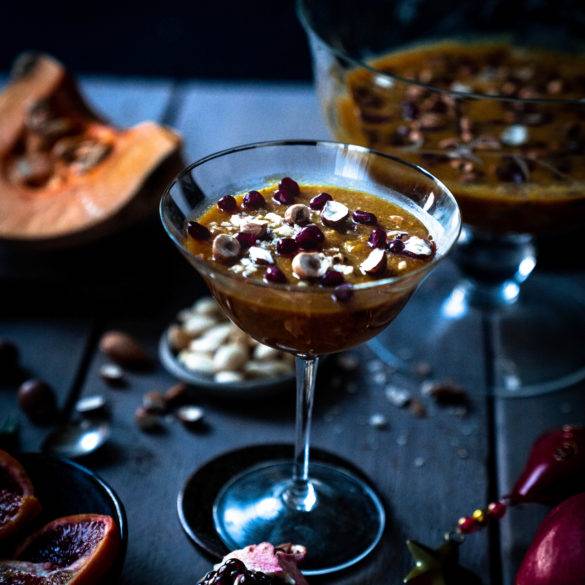 Ingredients
1kg pumpkin
375ml filtered water
25g oats
75g ground almond flour
1tbs vanilla extract
1tsp pomegranate molasses
1tsp tamari
2 oranges, juice
Pinch of salt
1 pomegranate
50g hazelnuts
Instructions
Preheat oven to 180 degrees Celsius.
Dry bake the pumpkin in the oven for an hour. Remove and allow to cool. Peel the skin and remove the seeds. Whizz to fine consistency and set to one side.
Place the oats and water in a sauce pan and bring to a medium heat. Stir consistently for a few minutes until the oats start to thicken. Remove from heat.
In a large serving bowl, place the oat mixture and stir in the pumpkin, orange juice, and ground almonds. Add the vanilla extract, pomegranate molasses and tamari. Season with a pinch of salt.
Place the entire baked pumpkin mixture in a large serving bowl and top with pomegranate seeds and hazelnuts.