Spicy Sumac Mustard Jackfruit Curry is a variation of my spicy jackfruit curry dish I usually do – here I use oats – this is such a terrific binder and inexpensive too. I love the flavours that sumac and mustard bring to this dish. And, I prefer to have my beans and chilli fresh – the raw taste and textures meld with the rest of this dish.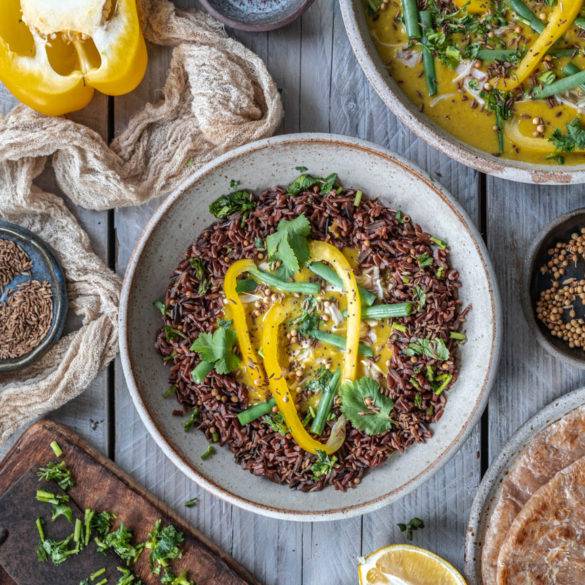 Ingredients
225g jackfruit
650ml filtered water
50g oats
½ inch fresh ginger
Seasoning ingredients
1tbs sumac
1tbs wholegrain mustard
1tsp turmeric powder
1tbs coriander powder
1tbs cumin powder
1tbs white wine vinegar
½ lemon, juice
Pinch of salt and peppercorns
½ fresh chilli (optional)
100g green beans, chopped
½ pepper, chopped
Small bunch of coriander leaves and stalks, chopped
Instructions
Break the jackfruit pieces using the back of a fork.
Place the water with oats and the ginger in a blender and blend well.
Transfer to a large saucepan and bring to a medium heat.
Add the seasoning ingredients together with the jackfruit. Stir continuously until the oats start to thicken. Cook for about 10 minutes.
Serve immediately. As you serve sprinkle with the chilli, beans and pepper and garnish with coriander leaves.