Wasabi Lemongrass Maple Glazed Tofu is one of those quick dishes you can let marinade before, return from work and simply rustle up for a comfortable meal. I add cardamoms to give this dish an extra layer of flavour.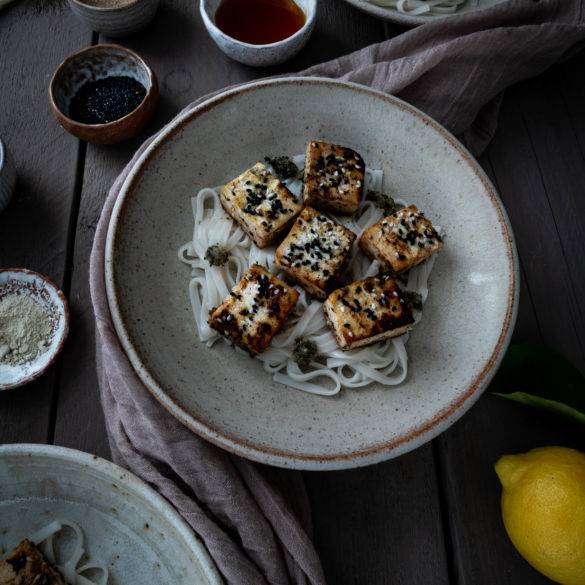 Ingredients
00g tofu, cut into cubes (no more than 1cm in height)
3 cardamoms
1 lemongrass
¾ tsp wasabi powder
4tbs lemon juice
4tbs maple syrup
Few sprigs of mint
Oil for frying
Garnishing
Sesame seeds
Instructions
Make the marinade by deseeding the cardamoms. Put the cardamoms and lemongrass and whizz to fine consistency – do not worry about having shards of lemongrass filaments, it just adds to the texture.
Place the grounded cardamom lemongrass into a mixing bowl. Add the wasabi powder, lemon juice and maple syrup. Chop some mint and add to the marinade.
Placed the cubed tofu into a low shall dish and drizzle the marinade. Cover and leave overnight and the following morning turn over the tofu.
When ready to serve, place some oil into a frying pan and sauté the tofu each side for no more than two to three minutes, until the tofu turns a nice golden colour.
Garnish the tofu with sesame seeds and serve with the remaining marinade not absorbed.
Notes
By Edward Daniel, Vegan Chef and Former Chair of The Vegan Society. Contributor to Vegan Life Magazine, Plant Based Magazine, Vegan Food and Living Magazine and OK! Magazine. Speaker and cooking demonstrator at Vegan Life Life Festival London, Mind Body and Spirit Festival London, Veganes Sommerfest Berlin, and Bali Vegan Festival. Author of "Essence: The Beginner's Guide to Veganism".