Baked Stuffed Apples is reminiscent of my childhood school lunch days when I was served these little delectable desserts.  Incredibly simple to put together yet lusciously satisfying. Dried fruit and cinnamon evoke the holiday seasons. It is a sure front runner.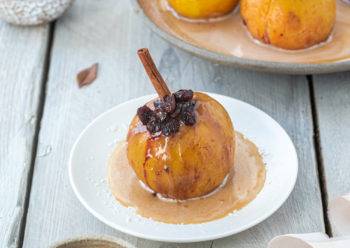 Ingredients
6 Bramley Apples
50g cranberries, dried
50g cherries, dried
50g sultans, dried
1 small stick of cinnamon, ground
Butterscotch sauce at https://www.ethivegan.com/recipe-vegan-butterscotch-sauce-vegan-gf/
Instructions
Soak the dried fruits in filtered water for at least 30 minutes. Set to one side.
Preheat oven to 180 degrees Celsius or if convection oven to 160 degrees Celsius.
Make the Butterscotch sauce here.
Core the inside the apples, removing seeds and leaving a gap in the centre all the way through.
Drain the dried fruit which should have started to plump up and mix with the cinnamon. Use your fingers to stuff the dried fruit in the apple cavity and place the apples in an oven proof dish.
Make the Butterscotch sauce and pour half the sauce over the apples. Cover with aluminium foil and bake in the oven for 20 minutes. Remove the foil and baste with more sauce and bake for a further 20 minutes.
Serve warm with the Butterscotch sauce.
Notes
By Edward Daniel, Vegan Chef and Former Chair of The Vegan Society. Contributor to Vegan Life Magazine, Plant Based Magazine, Vegan Food and Living Magazine and OK! Magazine. Speaker and cooking demonstrator at Vegan Life Life Festival London, Mind Body and Spirit Festival London, Veganes Sommerfest Berlin, and Bali Vegan Festival. Author of "Essence: The Beginner's Guide to Veganism".