Galicia-Style Vegan Scallops; Basted majestic fleshy King Oyster Mushrooms drenched in dry white wine flavoured with a piquant yet tantalising parsley sauce. A few choice ingredients is all that is required. Dip in bread for an enhanced sensual experience.
Make this:
When you're riveted to distraction and guilty pleasures are whirling round your head. A bowl of Galicia-Style Vegan Scallops will only purge your desires
When a semblance of reality leaves you asunder and you think f**k it, I want a moment of solitary confinement and this is my dish
When you're wanting to recapture regional Spanish cooking and you don't want to travel beyond your kitchen, not just right this moment, anyway, no – but, soon
Go on tag me @ethivegan and we'll see what you've been up to….
Love.
Edward x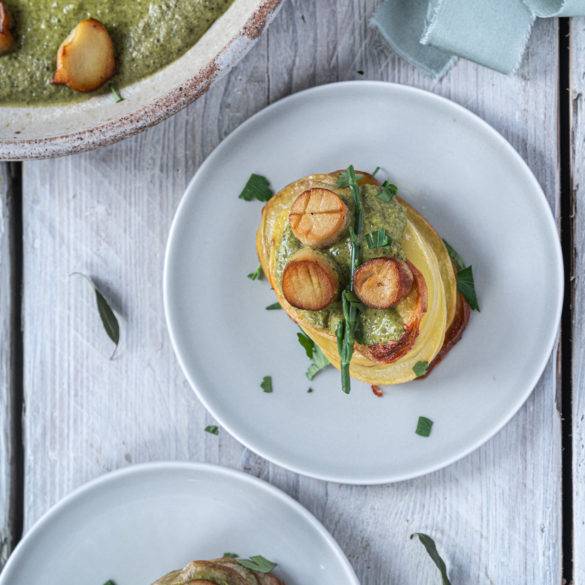 Ingredients
250g King Oyster Mushrooms
4tbs olive oil
150ml dry white wine
250ml vegetable stock
1 onion
4 cloves of garlic
Few sprigs of parsley, chopped
1tbs seaweed, dried (I use egg wrack but you could use nori/laver)
Instructions
Cut the mushrooms into discs and sauté in a couple of tablespoons of oil until golden.
Add the wine and stock and cook for 5 minutes. Set the reserved liquid to one side.
Remove the scallops and set to one side in a hot plate or in the oven at a low temperature to keep warm.
Saute the onion in oil in a separate pan until the onion starts to brown. Add the garlic for a couple of minutes and then the reserved liquid. Bring back to heat.
Add the chopped parsley and cook for a further 2 minutes. Blend in a high-speed blender with the seaweed.
Serve the vegan scallops with the parsley sauce with some bread and potatoes.