Galicia-Style Vegan Scallops I love because it reminds me of Spanish regional cuisine.  Just a few choice ingredients is all that is required. I love how King Oyster Mushrooms act as a substitute and bring a succulent taste to this dish.  The parsley sauce complements the vegan scallops and I enjoy this dipped with bread.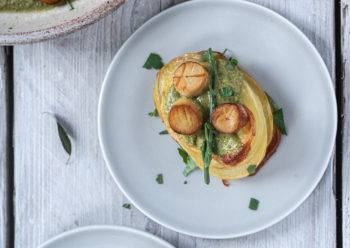 Ingredients
250g King Oyster Mushrooms
4tbs olive oil
150ml dry white wine
250ml vegetable stock
1 onion
4 cloves of garlic
Few sprigs of parsley, chopped
1tbs seaweed, dried (I use egg wrack but you could use nori/laver)
Instructions
Cut the mushrooms into discs and sauté in a couple of tablespoons of oil until golden.
Add the wine and stock and cook for 5 minutes. Set the reserved liquid to one side.
Remove the scallops and set to one side in a hot plate or in the oven at a low temperature to keep warm.
Saute the onion in oil in a separate pan until the onion starts to brown. Add the garlic for a couple of minutes and then the reserved liquid. Bring back to heat.
Add the chopped parsley and cook for a further 2 minutes. Blend in a high-speed blender with the seaweed.
Serve the vegan scallops with the parsley sauce with some bread and potatoes.
Notes
By Edward Daniel, Vegan Chef and Former Chair of The Vegan Society. Contributor to Vegan Life Magazine, Plant Based Magazine, Vegan Food and Living Magazine and OK! Magazine. Speaker and cooking demonstrator at Vegan Life Life Festival London, Mind Body and Spirit Festival London, Veganes Sommerfest Berlin, and Bali Vegan Festival. Author of "Essence: The Beginner's Guide to Veganism".