Balsamic Sunflower Baby Plum Tomato Tartlets are perhaps one of my favourite quick and easy yet elegant dishes to prepare as a starter, snack or as a main dish. Colourful and yet really tasty. I love the combination of tomatoes and balsamic vinegar.  Sometime, I like to add caraway seeds too but I wanted to keep this dish simple.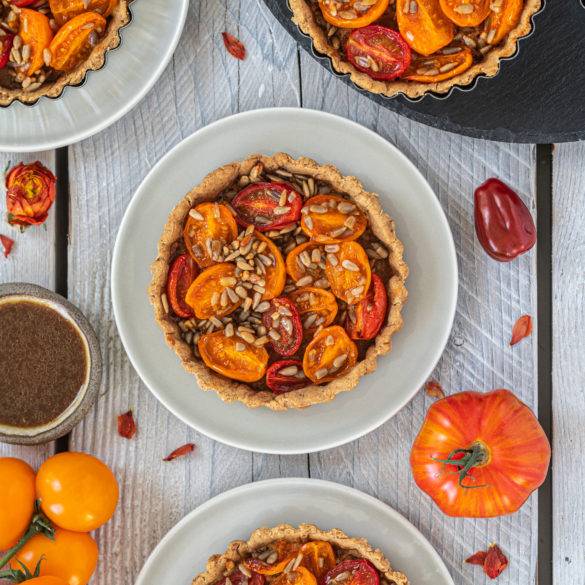 Ingredients
Dry ingredients
85g chick pea flour
50g buckwheat groats
60g millet
25g oats
25g flaxseeds
1tsp unrefined cane sugar
Pinch of salt
50g tapioca
1tsp bicarbonate of soda
Wet ingredients
40g olive oil
100ml filtered water
½ lemon, juice
Filling
25g sunflower seeds
400g plum tomatoes
2tbs balsamic vinegar
2tbs olive oil
1tbs orange juice
Pinch of salt
Instructions
Pre-soak the sunflower seeds in filtered water for at least 30 minutes. (Though, I prefer leaving to pre-soak overnight).
Slice and marinade the plum tomatoes in the balsamic vinegar, olive oil, orange juice and pinch of salt.
Make the dough my placing the buckwheat, millet, oats, flaxseeds, salt and sugar into a high-speed blender and blend until fine. Place in a large mixing bowl with chick pea flour, tapioca and bicarbonate of soda. Then add the wet ingredients, the water, oil and lemon juice. Mix well. Leave to rest for about 20 minutes.
Preheat oven to 180 degrees Celsius or if a convection oven to 160 degrees Celsius.
Line 6 tartlet dishes with oil.
Weigh and separate out the dough into six equivalent weights. Roll each into a ball.
Roll the dough by placing between two sheets of parchment paper and roll into a circle and slide into the tartlets and press around with the fingers. Prick the dough.
Drain the sunflower seeds. Add to the tomatoes. Give it a stir.  Drain the marinade, retaining for later.
Lay the tomatoes and sunflower seeds on top of the dough.
Bake in the oven for about 20 minutes until the crust turns a golden colour.
Serve warm or cold, drizzled with the marinade.