Radicchio Puy Salad with Orange Vinaigrette is a perfect winter salad. Radicchio has this bitter taste but balances out favourably with the Orange vinaigrette.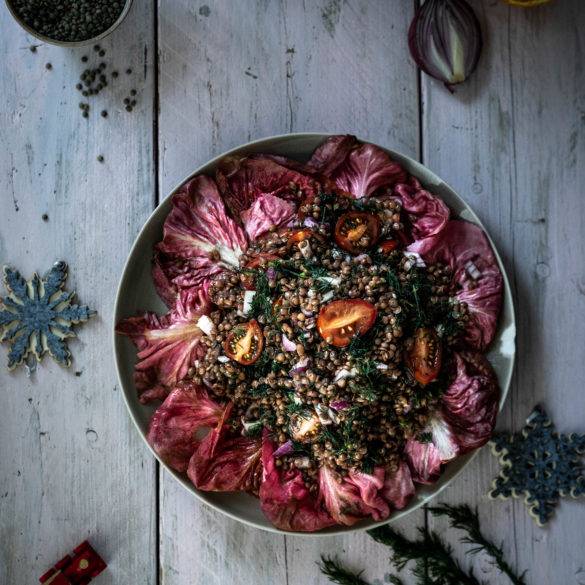 Ingredients
200g puy lentils
1tbs balsamic vinegar
1tbs white wine vinegar
½ orange juice
½ tsp salt
½ medium red onion, chopped finely
100g plum tomatoes
1 bulb Radicchio, chopped
Few sprigs of dill, chopped
1tbs olive oil
Instructions
Cook the Puy lentils in a pressure cooker.
Make the vinaigrette dressing by combining the vinegars, orange juice and salt. Toss in the tomatoes and the red onions.  Add the puy lentils set aside for about 30 minutes.
When ready to serve, wash and pat dry the Radicchio removing the base. Mix the Radicchio and dill in with the Puy lentils.
Serve in a serving dish and drizzle with oil.
Notes
By Edward Daniel, Vegan Chef and Former Chair of The Vegan Society. Contributor to Vegan Life Magazine, Plant Based Magazine, Vegan Food and Living Magazine and OK! Magazine. Speaker and cooking demonstrator at Vegan Life Life Festival London, Mind Body and Spirit Festival London, Veganes Sommerfest Berlin, and Bali Vegan Festival. Author of "Essence: The Beginner's Guide to Veganism".