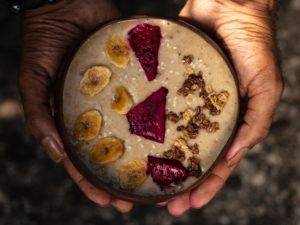 Banana and Peanut Butter Smoothie Bowl
Banana and Peanut Butter Smoothie Bowl was inspired through being in Bali. Just a few choice ingredients and it just sets you up for the whole day. This dish is for one person.
Cuisine:
Vegan, Paleovegan, Paleo
Ingredients
2 bananas
1tbs almonds, ground
1tbs peanut butter
250ml vegan milk
Sesame seeds for garnishing
25g granola
Instructions
Place the bananas, almonds, peanut butter and vegan milk in a blender and combine well. Transfer to a serving bowl.
Top the dish with sesame seeds and granola.
Serve.
_____________________________________________________
EthiVegan by Edward Daniel
Thank you for taking the time to view my recipes, interviews and events pages.  I hope I inspire you to make these recipes and also inspire you to become very best versions of yourself.
You can follow me on Instagram here (@ethivegan) where I have quick one minute update videos and for interviews and cooking demonstrations you can subscribe to my Youtube channel here.  You can watch live cooking demonstrations by subscribing to my Facebook profile here (@ethivegan).
For more information about me – click here
See you soon.
Love.
Edward x
Edward Daniel | Vegan Chef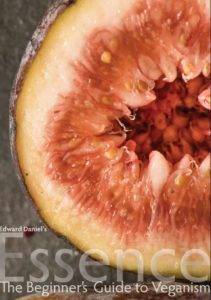 Love you all.
Edward x
Edward Daniel | Servant to Humanity | Second Wave | Chef | Digital Information and Media Solicitor | Author | Poet | Presenter | Former Chair, The Vegan Society