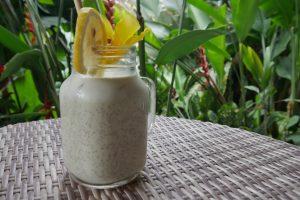 Durian Chia Seed Pudding
Durian Chia Seed Pudding came about because I had wanted to come up with a breakfast treat. Something nourishing that would set me up for the day while writing on my next book. This dish is simple to put together. All it needs is time to be left. This dish is for one person.
Recipe type:
Breakfast, Snack, Dessert
Cuisine:
Vegan, Paleo, Paleovegan, Raw
Ingredients
100g durian flesh (or 250g with stone)
25g chia seeds
250ml vegan milk
Instructions
Place the durian flesh and vegan milk in a blender and combine well. Transfer to a serving bowl or a tall glass.
Stir in the chia seeds and set aside for a couple of hours or overnight.
Serve.
_____________________________________________________
EthiVegan by Edward Daniel
Thank you for taking the time to view my recipes, interviews and events pages.  I hope I inspire you to make these recipes and also inspire you to become very best versions of yourself.
You can follow me on Instagram here (@ethivegan) where I have quick one minute update videos and for interviews and cooking demonstrations you can subscribe to my Youtube channel here.  You can watch live cooking demonstrations by subscribing to my Facebook profile here (@ethivegan).
For more information about me – click here
See you soon.
Love.
Edward x
Edward Daniel | Vegan Chef