Dragon Fruit Smoothie Bowl was inspired through being in Bali, where I had been invited to speak at the Bali Vegan Festival 2018. I just love the simplicity of this dish which is not only nutritious but brings me back to nature. It is a great way to start the day. This dish is for one person.  I prefer to chill the water beforehand but you could equally chill the entire dish before serving.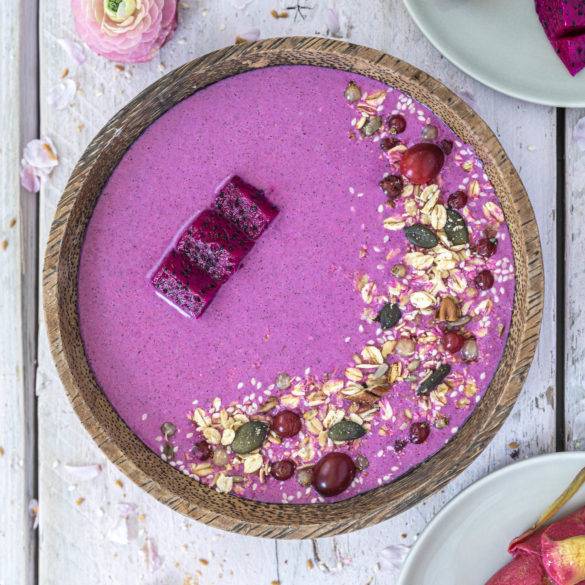 Ingredients
½ dragon fruit
1 banana
25g flaxseeds, ground
30g almonds, blanched
170ml chilled filtered water
Sesame seeds for garnishing
25g granola
Instructions
Place the dragon fruit, banana, flaxseeds, almonds and water in a high-speed blender and combine well. Transfer to a serving bowl.
Top the dish with sesame seeds and granola.
Serve.
Notes
By Edward Daniel, Vegan Chef and Former Chair of The Vegan Society. Contributor to Vegan Life Magazine, Plant Based Magazine, Vegan Food and Living Magazine and OK! Magazine. Speaker and cooking demonstrator at Vegan Life Life Festival London, Mind Body and Spirit Festival London, Veganes Sommerfest Berlin, and Bali Vegan Festival. Author of "Essence: The Beginner's Guide to Veganism".