Beet Green Pie is a quick and easy recipe to put together. It also assists with using those beetroot tops which normally get discarded. Highly nourishing and luscious this Beet Green Pie will assist in our attempts towards a wholefood diet.
What to do next
Tag me on @ethiveganquantum on Instagram to show me what you've made and let me know you're happy for me to share.
My recipes are featured in vegan speciality publications: Nourished, Vegan Life, Plant Based and Vegan, Food and Living.
Order my first self-published book, "Essence: The Beginner's Guide to Veganism" part of the three-part Circle of Food series. My second book "Presence: The Ascending Vegan" – which explores how to maintain a vegan practice is out in 2027 – I have compiled all the chapters including recipes.
Going strong since 2013.
Love.
Edward x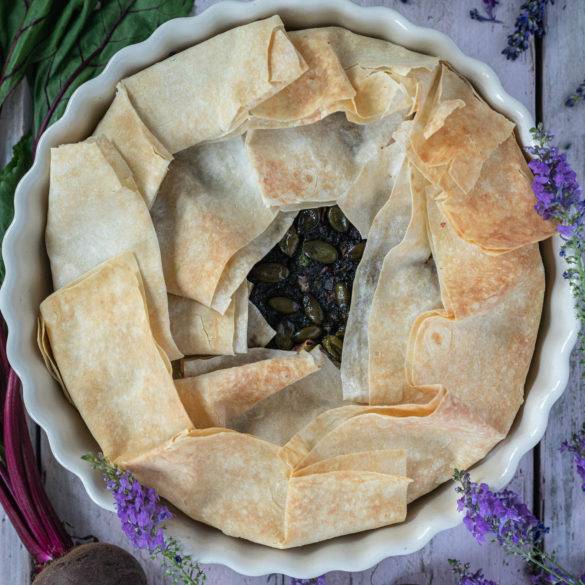 Ingredients
75g pumpkin seeds
3 cloves of garlic
2tbs olive oil
500g beet greens (beetroot leaves and stems)
50g olive oil
10g nutritional yeast
Salt and pepper
250g Yufka Turkish pastry leaves
Instructions
Soak the pumpkin seeds in filtered water about 30 minutes. Drain, place in baking dish with the garlic and coat with olive oil
Pre-heat the oven to gas mark 180 degrees Celsius or if you have a fan oven 160 degrees Celsius.
Bake the pumpkin seeds for about 10 minutes, and remove. Leave the garlic to roast for a further 10 minutes. Set to one side.
In a blender, place the beet greens with the peeled garlic and half the pumpkin seeds, 50g olive oil, nutritional yeast. Whizz. Remove the beet green mixture and place in a mixing bowl with the remaining pumpkin seeds and season to taste.
Line a small baking dish with oil and then with three or four sheets of the Yufka leaves. Ladle in some of the beet greens and alternate between the Yufka leaves and beet greens. Cover the Yufka leaves and glaze with oil.
Bake the pie in the oven for about 15 minutes.
Serve warm as a main or side.