Chestnut Roast with lashings of peanuts, country of parsley, oregano and marjoram, spiced cumin, a touch of lemon, sweetened with raisins.
Slather something lush onto your plate and lick it clean… And, pamper.
This recipe will throw out any beliefs that vegan food can't be super yummy.
Make this:
When the festive season is upon and Chrimbo roast will be the fixer for your lavish meal
When a Sunday roast needs a little sprucing up and roast packed with flavour will set off your day of rest
When you've got not-vegan old-timers round and need a dish that'll have them surprised this is vegan
Chestnut Roast was inspired when picking up fresh chestnuts in one of the quaint local fresh vegetable store in Battle and then returning to a 17th Century country cottage to bake a nut roast before the Tarot Cards came out.
Roasted chestnuts are a winter delicacy in the UK. Introduced by Romans, sweet chestnuts are native to Southern Europe, Western Asia and Africa.
Chestnuts have a sweet taste and nutty texture. The raisins bring add a sweet dimension to this recipe, with the lemon and cumin a warming feeling to this dish
Chestnuts are high in dietary fibre, improving our digestive system.
Chestnut Roast is vegan and gluten-free.
What to do next
Tag me on @ethiveganquantum on Instagram to show me what you've made and let me know you're happy for me to share.
My recipes are featured in vegan speciality publications: Nourished, Vegan Life, Plant Based and Vegan, Food and Living.
Order my first self-published book, "Essence: The Beginner's Guide to Veganism" part of the three-part Circle of Food series. My second book "Presence: The Ascending Vegan" – which explores how to maintain a vegan practice is out in 2027 – I have compiled all the chapters including recipes.
Going strong since 2013.
Love.
Edward x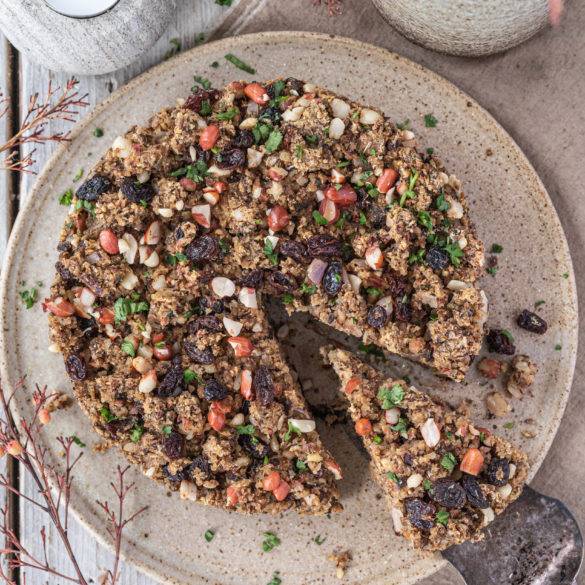 Ingredients
1 shallot

2 garlic cloves

2tbs olive oil

75g quinoa

200ml filtered water

200g chestnuts, cooked

50g peanuts, chopped

40g oats

25g flaxseeds

50g raisins

Few sprigs of parsley, chopped

1tbs marjoram

1tbs oregano

1/2 lemon, juice and zest

2tbs filtered water

1tsp cumin seeds

Season to taste
Instructions
Pierce and boil the chestnuts in filtered boiling water for 20 minutes. Drain and set-aside until cool. Remove the skin with a knife. Set to one side.
Cook the quinoa in water until the water dissolves
Pre-heat oven to gas mark 180 degrees Celsius or if convection oven to 160 degrees Celsius.
Sauté the shallot in the oil until translucent. Add in the garlic cloves. Then add chopped peanuts and cook for a couple of more minutes.
In a blender roughly pulse the chestnuts. Transfer to a large mixing bowl. Add in the raisins, herbs and cumin seeds. Mix well with the quinoa.
A high-food processor pulse the flaxseeds and oats until fine. Add to the mixing bowl with the shallot mixture and zest.
Pour in the lemon juice and water.
Season to taste.
Fold the chestnut mixture and smooth over to all sides. Cover with aluminium foil and place in the oven.
Roast the chestnut nut in the oven for 25 minutes. Remove from the oven.
Turnover and garnish with parsley.
Serve warm some vegan gravy.